Dear users,
For everyone that uses PowerArchiver in an environment which needs to satisfy various legislation on protecting end-user information, we have a fully certified end-to-end solution for secure data storage and transport that is validated against FIPS 140-2 standard. For data storage and exchange, we use ZIP AES (public and open data encryption standard) and for transport we use secure ftp client (both SFTP and FTP over SSL, both public transport standards). Both solutions use FIPS 140-2 validated components and are in compliance with all legal requirements for open data storage and transport as well as data protection standards.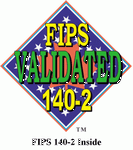 HIPAA, NIST, PCI DSS and GDPR legislative needs can be met or exceeded with PowerArchiver operating in FIPS 140-2 mode..
For PowerArchiver 2019, we have made it easier to make sure you stay compliant during your usage of PowerArchiver. Since we use Windows validated FIPS 140-2 security components, it is necessary to make sure that FIPS is enabled in Windows. Quite often, enabling or changing the FIPS component in Windows can be overlooked. PowerArchiver is the first security utility, that we know of, which keeps track of this easily. In an upcoming release, PowerArchiver will feature SmartAI automated configuration which will provide several options that correctly set all the relevant Windows settings and will provide a notice if those settings are not set. Here are our new SmartAI FIPS 140-2 options:

Auto (SmartAI) – PowerArchiver will detect if your Windows installation is set to use FIPS 140-2 mode and if so, it will automatically activate FIPS 140-2 mode in PowerArchiver.
On – When you set FIPS 140-2 mode to On, PowerArchiver will activate itself into FIPS 140-2 mode, and check if FIPS 140-2 is enabled in Windows – If it is not, it will ask you if you want to enable it and will automatically enable this setting in Windows.
Force FIPS 140-2 mode – This option will make PowerArchiver check at each startup if everything is properly set, and if not it will give you an option to set it through PowerArchiver. Status bar message will show, indicating whether PowerArchiver is FIPS 140-2 compliant.
Off – FIPS is disabled and not used in anyway. This is a recommended mode for users not needing FIPS 140-2 compliance.
By using PowerArchiver 2019, you can rest assured that you will be warned when you are out of compliance with FIPS 140-2 and you'll also be able to easily configure your Windows installation to be compliant. We have created several tutorial videos you can see here on how to encrypt your data with PowerArchiver. You can also read more about PowerArchiver and FIPS 140-2 validation here.
PowerArchiver 2019 is in preview state and is already available to our current customers with our premium PowerArchiver Select maintenance/support program. You can read here about additional new features in PowerArchiver 2019.