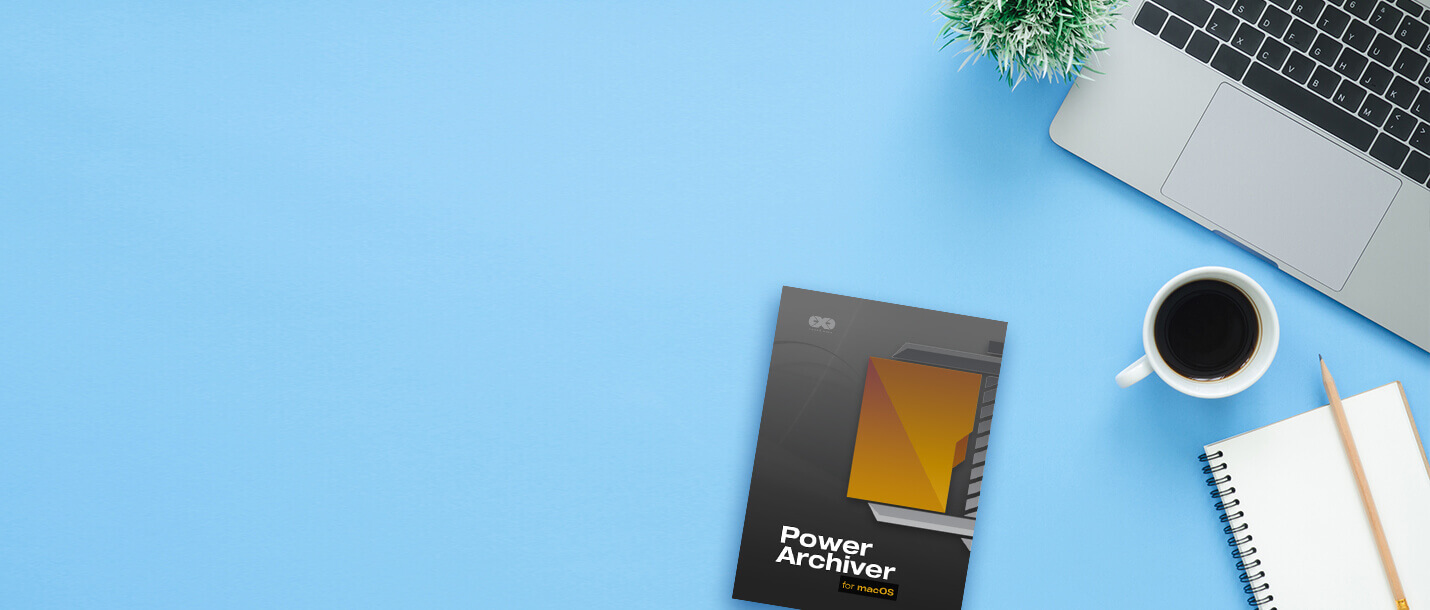 PowerArchiver 2022 Pro for macOS
PowerArchiver 2022 Pro for macOS is a powerful and effective application for compression, encryption and file management for MacOS. With a combination of the legendary PowerArchiver features and tools, it is an ideal and affordable partner for home use and business environments.
---
What's Included:
Comprehensive set of tools and features which support creating ZIP/ZIPX, 7ZIP, TAR, TAR.GZ, TAR.BZ, TAR.XZ and extracting numerous additional formats. Full support for secure encryption – ZIP AES 256bit. File and archive management tools such as Multi-Extract, Batch Compress, Archive Converter, Join Archive Tool, Write/Merge Multi Volume archive. Multiple Tab support and archive preview. Customizable interface and more.
More Info about PowerArchiver 2022 Pro for macOS
PowerArchiver 2022 Pro for macOS

– has joined the PowerArchiver family with a useful set of PowerArchiver's legendary tools and features for file compression, encryption and management. If you have not yet used PowerArchiver, or have used PowerArchiver on the Windows platform, now is the time to try PowerArchiver 2022 Pro for macOS.


Whether you use compression tools in a home or business environment, PowerArchiver is an ideal software partner that will improve your file management experience. We are continually improving PowerArchiver 2022 Pro for macOS and you can expect more features added to future versions, including our own .PA format.

Here is a list of currently implemented features and the details on them:

Full support for creating ZIP/ZIPX, 7ZIP, TAR, TAR.GZ, TAR.BZ, TAR.XZ, LHA
Full support for extracting ZIP/ZIPX, 7ZIP, TAR, GZIP, BZIP2, XZ, RAR (including V5),CAB, LHA, ZOO, ARJ, WIM, ISO, RPM, DEB, LZMA, etc. (over 60+ formats).
Support for secure encryption – ZIP AES 256bit.
Multiple tab support in main interface.
6 different tools included to make it easier to handle multiple archives via single action.
Opening and Compressing archives via Finder.
Drag and Drop support from Finder to PA application icon.
Several icon styles built in for customization.
Multilingual support with over 30 translations.

Most Advanced ZIP/ZIPX Engine

PowerArchiver 2022 Pro for macOS offers ZIP and ZIPX format support that is superior to it's competators. Here are the highlights:

Multicore deflate zip engine, almost 4x faster than single core systems on quad core computers.
Improved speed of zip compression and extraction on any occasion.
Full support for advanced ZIPX format – LZMA, LZMA2, PPMd, BZIP2, WAVPACK and ZSTD in ZIP/ZIPX, according to latest ZIP standards. PowerArchiver 2022 Pro for macOS fully supports opening any archive created with WinZip.
Optimized compression methods for settings of your choice, based on compression speed and compression strength
Full support for more basic ZIP format that is compatible with all archive software out there, as well as the full cross platform compatibility with built-in Windows XP/Vista/7/10 zip reader.
JPEG support – Unique and rare support for extraction of ZIPX JPEG compression created by WinZIP.
Unlimited size of the archive, unlimited size of files inside archive and unlimited number of files inside archive.
Multicore LZMA engine for ZIP/ZIPX.
Support for Unicode in ZIP, both read and write. Implemented throughout application.
ZIP/ZIPX AES support (both PkZip 5.1 and WZ 9.0 standards supported) – Supports creating and extracting AES-128, AES-192 and AES-256 encrypted archives as well as PkZip 5.1 encryption for full compatibility.
SecureZip compatibility – only archiver fully compatible with SecureZip, including reading 3DES encrypted archives and ZIP/ZIPX archives encrypted with digital certificates.
Multiple disk spanning, with support for unlimited span sizes.

7-Zip Compression

7-Zip is an advanced compression format featured in PowerArchiver 2022 Pro for macOS. It is an open source format, providing an open architecture and high compression ratio. 7-Zip outperforms ZIP, ZIPX and even RAR in many tests. However, 7-Zip's greatest strength is that it is not controlled by any organization or individual, but by an open source LGPL project to which anyone can contribute. More information on 7-Zip and its superior compression can be found at 7-Zip.org.
PowerArchiver 2023 Pro also features a Transparent Update feature for 7-Zip archives, which allows you to quickly add or remove files even if the archive is "Solid". PowerArchiver supports all 7zip methods, including LZMA2. Another unique feature to PowerArchiver is the SmartAI compression method where PowerArchiver will automatically pick the best compression method based on your strength setting as well as file type for maximum speed/compression ratio, which improves both speed and compression strenght.

Unmatched Security

PowerArchiver 2022 Pro for macOS comes with an unprecedented level of security features fully supporting the new ZIP AES standard encryption. For ease of use, the PowerArchiver Password Manager will save your frequently used passwords so you do not need to type them each time you use them.

Full support for ZIP AES encryption, 128-bit/192-bit/256-bit (supports: PKZip 5.1 (full), Secure Zip 8.0 and WinZip 9.0 AE-1 & AE-2). Unique support for both PkZIP and WinZIP AES options giving you full compatibility.

Preview Window

With PowerArchiver 2022 Pro for macOS, you can now easily preview archives, images, text and many other file types directly in PowerArchiver without having to open the archive or file. The Preview feature works both while browsing hard drives and inside archives, with full support for preview plug-ins. You can preview images and documents in archives without having to extract them to your hard drive!

Useful Tools

PowerArchiver 2022 Pro for macOS includes the most advanced set of tools available that provide effective assistance when manage your archives:

Archive Converter – convert archives among the formats supported in PowerArchiver. Can convert as many as thousands of archives/folders at a time.
Encode Tool – encode/decode files in UU, XX, MIME and yENC formats.
Join Archive Tool – Join numerous archives of the same or different format into single archives.
Write/Merge Multi-Volume Tools – split ZIP files into multivolumes, and also merge multivolumes into a single ZIP archive.
Batch ZIP Tool – batch compress as many as thousands of files into separate archives in one instance.
Multi-Extract Tool – extract as many as thousands of archives at the same time.
Optimize Tool – re-compress archive to ZIP/7zip with stronger compression settings, creating smaller files.
Remove Encryption Tool – Remove encryption from archives.

Beautiful and Customizable Interface

PowerArchiver 2022 Pro for macOS comes with a beautiful interface with various view styles. The main toolbar is customizable, it gives you the ability to customize the toolbar buttons you need and in a color style of your choice. Dark/Light modes are fully supported and look great.

We invite you to please visit our forums for further discussion and assistance for PowerArchiver 2022 Pro for macOS!
Multiple licenses
(english)
1 License $34.95
2-9 License $25.00
10-24 License $20.00
25-49 License $17.00
50-99 License $13.00
100-199 License $10.00
200-499 License $7.50
500-999 License $5.00
Multiple licenses
(multilingual)
1 License €34.95
2-9 License €25.00
10-24 License €20.00
25-49 License €17.00
50-99 License €13.00
100-199 License €10.00
200-499 License €7.50
500-999 License €5.00
Accessibility
Section 508 Compliance
Every version of PowerArchiver 2018 is Section 508 Compliant. Please click here to download VPAT PDF.
System Requirements
Operating systems:
Computer:
Every computer which runs one of the above mentioned operating systems at a reasonable speed.
Disk Space Requirements:
150 MB for the program files plus some additional space for backup files (minimal).
Miscellaneous:
Multi-core processor recommended for best speed.
Translations
Catalan, Croatian, Chinese (Simplified), Chinese (Traditional), Czech, Danish, Dutch, German, Estonian, English (USA), English (UK), French, Finnish, French, Hebrew, Hungarian, Indonesian, Italian, Japanese, Norwegian, Polish, Portuguese (Brasil), Portuguese (Portugal), Romanian, Russian, Serbian (Cyrillic, BiH), Serbian (Latin, Serbia), Spanish (Argentina), Spanish (Spain), Slovak, Slovenian, Swedish, Turkish, Ukrainian, Korean languages.