Special Offer! Lifetime SUPER BUNDLE with 80% discount!
Lifetime SUPER Bundle 5 Licenses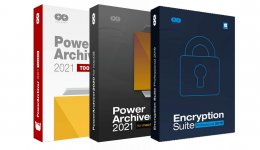 Lifetime SUPER Bundle 20 Licenses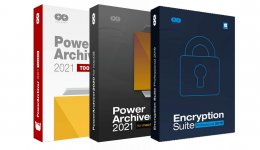 Take advantage of the Lifetime SUPER BUNDLE which includes both PowerArchiver Toolbox and PowerArchiver Pro for macOS, as well as Encryption Suite PRO. This lifetime bundle offer is the best value package with the most savings for all three products!
PowerArchiver Select (Future Upgrades)

What is the PowerArchiver Select plan?

Every PowerArchiver purchase comes at minimum with complimentary 12 months of PowerArchiver Select. PowerArchiver Select is a premium Support and Maintenance plan with following features: Upgrade Assurance (free upgrade to all major/minor versions), Live Registration system that keeps your registration code up to date, Priority Support including telephone support, priority Feature Requests, priority BETA releases. Level of end-user support in PowerArchiver Select is unprecedented in the software industry, where none of our competitors even offer phone support, let alone ability to influence future development. Renewal is available at significantly discounted prices – 73% discount for 1 year renewal and even larger discount for 3 year renewal!

| Powerarchiver 2021 STANDARD | Powerarchiver 2021 PROFESSIONAL | Powerarchiver 2021 TOOLBOX |
| --- | --- | --- |
| 1 License $22.95 | 1 License $ PowerArchiver Outlook Plug-in..95 | 1 License $49.95 |
| 2-9 License $16.00 | 2-9 License $25.00 | 2-9 License $35.00 |
| 10-24 License $13.00 | 10-24 License $20.00 | 10-24 License $28.00 |
| 25-49 License $11.00 | 25-49 License $17.00 | 25-49 License $22.00 |
| 50-99 License $8.50 | 50-99 License $13.00 | 50-99 License $16.00 |
| 100-199 License $6.50 | 100-199 License $10.00 | 100-199 License $14.00 |
| 200-499 License $5.00 | 200-499 License $7.50 | 200-499 License $10.50 |
| 500-999 License $3.50 | 500-999 License $5.00 | 500-999 License $7.00 |

| STANDARD | PROFESSIONAL | TOOLBOX |
| --- | --- | --- |
| No | No | Virtual Drive – Mount ISO files as CD/DVDdrives with simple right click options. |
| No | No | Full standalone CD/DVD/Blu-Ray burner! Features include CD/DVD Burner, Rip Audio CD, Burn Audio CD, Copy Disc, Burn Image (.iso) |
| No | No | Copy CD/DVD discs to ISO images for safe storage! |
| No | No | Secure FTP Client – full standalone FTP/SFTP client with logs, queue, smart handling of archives and more. FIPS 140-2 validated SSL. |
| No | No | Zip to Email – Premium Email plugin for Windows and Office products! |
| No | No | Advanced settings tab for Advanced Codec Pack (.PA Format). Adjust all of your compression options available for .PA format.. |
| No | No | Create advanced ISO Image files (both ISO9660 and UDF). |
| No | PowerArchiver Cloud – Full support for Dropbox, Google Drive, SkyDrive, Box.Net, Amazon S3 and Azure. Access your Clouds from within PowerArchiver. | PowerArchiver Cloud – Full support for Dropbox, Google Drive, SkyDrive, Box.Net, Amazon S3 and Azure. Access your Clouds from within PowerArchiver. |
| No | Encryption Suite with full AES 256 bit encryption support. FIPS 140-2 validated AES encryption. Encrypt/Decrypt hundreds of files at the same time. | Encryption Suite with full AES 256 bit encryption support. FIPS 140-2 validated AES encryption. Encrypt/Decrypt hundreds of files at the same time. |
| No | Full OpenPGP functionality: create keys, encrypt files, sign files, verify. Key Management features included. | Full OpenPGP functionality: create keys, encrypt files, sign files, verify. Key Management features included. |
| No | Enterprise class Backup utility with Volume Shadow Service support, schedules, logs and ability to Burn, FTP and Copy backups up to 3 locations, all at the same time. Many formats and options available. | Enterprise class Backup utility with Volume Shadow Service support, schedules, logs and ability to Burn, FTP and Copy backups up to 3 locations, all at the same time. Many formats and options available. |
| No | Full copy of PowerArchiver Command Line (PACL) included. Fully featured command line utility with many features, full format support and FIPS 140-2 validated encryption modules. | Full copy of PowerArchiver Command Line (PACL) included. Fully featured command line utility with many features, full format support and FIPS 140-2 validated encryption modules. |
| No | Full copy of PowerArchiver for Office Add-in (PAOP) included. Microsoft Outlook, Word and Excel Add-Ins. One of the best Microsoft Outlook compression/encryption add-ins on the market. | Full copy of PowerArchiver for Office Add-in (PAOP) included. Microsoft Outlook, Word and Excel Add-Ins. One of the best Microsoft Outlook compression/encryption add-ins on the market. |
| Advanced Codec Pack – Full support for new .pa format, including advanced options. You can manually configure various different codecs, filters and their respective options for maximum speed/compression. | Advanced Codec Pack – Full support for new .pa format, including advanced options. You can manually configure various different codecs, filters and their respective options for maximum speed/compression. | Advanced Codec Pack – Full support for new .pa format, including advanced options. You can manually configure various different codecs, filters and their respective options for maximum speed/compression. |
| Most advanced ZIP/ZIPX engine, only one fully compatible with WinZip and SecureZIP. Supports fully ZIPX standard (lzma, lzma2, ppmd, wavpack and jpeg) for lowest size archives, unlimited sized ZIP/ZIPX archives, AES 256bit encryption, Unicode languages, Multicore compression | Most advanced ZIP/ZIPX engine, only one fully compatible with WinZip and SecureZIP. Supports fully ZIPX standard (lzma, lzma2, ppmd, wavpack and jpeg) for lowest size archives, unlimited sized ZIP/ZIPX archives, AES 256bit encryption, Unicode languages, Multicore compression | Most advanced ZIP/ZIPX engine, only one fully compatible with WinZip and SecureZIP. Supports fully ZIPX standard (lzma, lzma2, ppmd, wavpack and jpeg) for lowest size archives, unlimited sized ZIP/ZIPX archives, AES 256bit encryption, Unicode languages, Multicore compression and much more. |
| Fully supports creating and opening of: ZIP (multicore), ZIPX (multicore), PA (multicore), 7-zip (multicore LZMA and LZMA2), LHA, CAB, TAR/GZ/BZ2/XZ archives. WinRar compression supported when WinRar is installed | Fully supports creating and opening of: ZIP (multicore), ZIPX (multicore), PA (multicore), 7-zip (multicore LZMA and LZMA2), LHA, CAB, TAR/GZ/BZ2/XZ archives. WinRar compression supported when WinRar is installed | Fully supports creating and opening of: ZIP (multicore), ZIPX (multicore), PA (multicore), 7-zip (multicore LZMA and LZMA2), LHA, CAB, TAR/GZ/BZ2/XZ archives. WinRar compression supported when WinRar is installed |
| Opens and extracts: RAR (10% faster than WR 4.x), ISO (ISO9660 and UDF), ACE, ARJ, MSI, NSIS, CHM, DMG, RPM, CPIO, VHD, XAR, LZMA, SquashFS, CramFS, WIM (over 60 formats total!) | Opens and extracts: RAR (10% faster than WR 4.x), ISO (ISO9660 and UDF), ACE, ARJ, MSI, NSIS, CHM, DMG, RPM, CPIO, VHD, XAR, LZMA, SquashFS, CramFS, WIM (over 60 formats total!) | Opens and extracts: RAR (10% faster than WR 4.x), ISO (ISO9660 and UDF), ACE, ARJ, MSI, NSIS, CHM, DMG, RPM, CPIO, VHD, XAR, LZMA, SquashFS, CramFS, WIM (over 60 formats total!) |
| Exclusive Windows 7, 8 and 10 features like automatic elevation via UAC, and Volume Shadow Service support for compressing files/databases exclusively in use by the system. | Exclusive Windows 7, 8 and 10 features like automatic elevation via UAC, and Volume Shadow Service support for compressing files/databases exclusively in use by the system. | Exclusive Windows 7, 8 and 10 features like automatic elevation via UAC, and Volume Shadow Service support for compressing files/databases exclusively in use by the system. |
| FIPS 140-2 and HIPAA validation/compliance with AES encryption in ZIP/ZIPX formats and with Secure FTP file exchange. | FIPS 140-2 and HIPAA validation/compliance with AES encryption in ZIP/ZIPX formats and with Secure FTP file exchange. | FIPS 140-2 and HIPAA validation/compliance with AES encryption in ZIP/ZIPX formats and with Secure FTP file exchange. |
| Has over 10 different tools, Queuing support, Profiles, Skins, Ribbon/classic interface choice, creates sfx archives (zip, 7zip, pae), automatic updates via 2 second patchbeam system and much, much more! | Has over 10 different tools, Queuing support, Profiles, Skins, Ribbon/classic interface choice, creates sfx archives (zip, 7zip, pae), automatic updates via 2 second patchbeam system and much, much more! | Has over 10 different tools, Queuing support, Profiles, Skins, Ribbon/classic interface choice, creates sfx archives (zip, 7zip, pae), automatic updates via 2 second patchbeam system and much, much more! |
| Full support for 64-bit Windows and multi-core processors in ZIP, 7-zip and PA formats. | Full support for 64-bit Windows and multi-core processors in ZIP, 7-zip and PA formats. | Full support for 64-bit Windows and multi-core processors in ZIP, 7-zip and PA formats. |
| Advanced Explorer mode with dual panel interface for easier file managment with full preview support and multiple tabs for archive handling. | Advanced Explorer mode with dual panel interface for easier file managment with full preview support and multiple tabs for archive handling. | Advanced Explorer mode with dual panel interface for easier file managment with full preview support and multiple tabs for archive handling. |
| Advanced interface with full skinning support. 3 stage skinning: interface, icons, and file format icons. Ships with 10 different skins options and more available on our website. | Advanced interface with full skinning support. 3 stage skinning: interface, icons, and file format icons. Ships with 10 different skins options and more available on our website. | Advanced interface with full skinning support. 3 stage skinning: interface, icons, and file format icons. Ships with 10 different skins options and more available on our website. |
| Advanced Modern Ribbon interface licensed from Microsoft. Fast and looking exactly the same as your Windows ribbon applications (Optional). | Advanced Modern Ribbon interface licensed from Microsoft. Fast and looking exactly the same as your Windows ribbon applications (Optional). | Advanced Modern Ribbon interface licensed from Microsoft. Fast and looking exactly the same as your Windows ribbon applications (Optional). |
| Fully featured preview window with support for previewing many different file types including fast native PDF preview. You do not need PDF viewer installed – simply click on PDF file in PowerArchiver and you can view it or print it from within preview window. | Fully featured preview window with support for previewing many different file types including fast native PDF preview. You do not need PDF viewer installed – simply click on PDF file in PowerArchiver and you can view it or print it from within preview window. | Fully featured preview window with support for previewing many different file types including fast native PDF preview. You do not need PDF viewer installed – simply click on PDF file in PowerArchiver and you can view it or print it from within preview window. |
| Fully Portable version that requires no installation and changes nothing in the system (x86 and x64). | Fully Portable version that requires no installation and changes nothing in the system (x86 and x64). | Fully Portable version that requires no installation and changes nothing in the system (x86 and x64). |