Dear users,
PowerArchiver 2016 RC3 (16.00.56) has been released today!
Thank you for your suggestions and wishes since first version of PowerArchiver 2016 has been released. Feedback has been great and made us work even harder for future releases. Today's 16.00.56 release is likely to be last RC to be released before final version of PowerArchiver 2016 is out.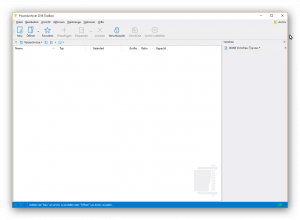 Changes between 16.00.43 and 16.00.56
Improved format support – Many improvements in support for various formats including 7zip, ISO, RAR, ZIP/ZIPX as well as SFX/Installer support.
Updated translations – Updated 20+ translations to their final state, with 10 others to come.
Improved format icons – Hand drawn icons now for 16×16 formats.
Large dpi improvements – Fine tuned large dpi support for all various parts of the interface.
Numerous small graphical changes – Small changes to graphics and skins in various parts of PowerArchiver.
Updated original icon set – Updated original icon set with all of the missing icons.
Improved format icons – Format icons 16×16 now hand drawn for better clarity.
Improved Virtual Drive installer – Improved virtual drive installer, now smaller, faster and sets mount/unmount shell extensions by default.
Improved RAR compression support – Improved storing of paths when RAR compression support is used via WinRAR.
Improved Preview window – Better support for some formats, now you can copy text easier via keyboard shortcuts (CTRL+C).
Added close archive button -Added Close Archive button to the toolbar (Classic toolbar).
Dual signed files and optimized installer -All PowerArchiver files (installer, dll, exe's) are now dual signed with both SHA-1 and SHA-256. Setup has been optimized for 3 MB smaller size.
Various improvements and fixes – over 80 fixes and improvements implemented since 16.00.43 release.
Changes between 16.00.36 and 16.00.43
New translations engine – All new translations engine with over 30 translations of PowerArchiver 2016, including major languages like English, German, French, Spanish (3 versions), Italian, Portuguese (2 versions), Russian, Chinese (2 versions), Soth Korean but also some new additions such as Catalan, Suomi, Magyar, Njorsk, Romana, Slovensky, Slovenian, Srpski, Svenska, and Turkce as well as latest Danish, Croatian, Ceski, Greek, Dutch, Polish, Indonesian and more!
Improved Burner startup speed – for some users, Burner startup has been improved by 4x since .36 release.
Various smaller improvements and fixes – over 20 fixes and improvements implemented.
Major changes in PowerArchiver 2016 (16.00.36):
New Interface – New classic and ribbon/modern interface designs. Everything is easy to use and where it always was, just with much nicer overall design. 9 prebuilt skins are available and each can be configured with various different options. Full application is properly skinned – every window! Classic interface is default and completely skinned as well as Ribbon interface.
New icons and logo – New icon design and new logo throughout the interface with modern look. Icons are now used in File menu interface as well, for modern look. However, if you still prefer the old look, you can change back to old icons by going to View> Skin Options> Icon sets.
For everyone! – Full support for both classic and modern (ribbon) toolbar. Skinning support can be completely turned off via Classic skin with no skins, to speed up interface on very slow computers.
Superior Windows 10 support! – Finely tuned Windows 10 support. We did not forget Windows XP either!
Completely customizable – Everything can be changed! There are many, many options that can be customized – for instance, you can turn on/off aero, change interface icons, every window is re-sizable, icon size is manually adjustable. There are 9 different skins, including dark and light variants.

2K/4K display support – Automatic support for 2K/4K displays – future proof! Large DPI support from 110% to 200%. Icon size is automatically adjusted with natively drawn large icons for superior look (over 1000 icons built for this purpose).
Touch screen support – Support for touch screens with special touch screen mode. If you use tablets that make it hard to click various parts of interface, Touch mode will automatically enlarge option choices so it is easier to hit wanted options. Works and looks great! Future proof!
Faster startup– faster startup speeds, especially on older systems.
Backup, Encryption Suite, Burner and Virtual Drive are full apps– Backup, Encryption Suite, Burner and Virtual Drive are now full applications that can be started independently from PowerArchiver and have their own full interface. Shortcuts to these apps are added via installer.
Office and Adobe encryption and signing– Added various Office and Adobe encryption and signing/verifying features in Encryption Suite (full interface).
Audio Burner and Ripper added– Many have asked us for audio burning and ripping features so they don't have to download separate audio burner – implemented in 2016. Audio burner will even automatically take audio from MP4 video file.
Support for ZPAQ format– support for strong ZPAQ format added. Both compression and extraction are supported. Depending on user feedback, further development is possible.
Support for WIM format– Added "compression" support for WIM format, in addition to previous extraction support.

Improved support for all formats– Improved support for all formats, as well as bug fixes. Over 50 various formats now supported.
Updated Burner Engine– Updated Burner engine for support of latest Blu-Ray standards.
Improved Compression Tools– All compression tool windows have been improved – Multi Extract, Archive converter, Batch ZIP and others are now all updated, modern looking with larger window default size and resizable. Improvements to performance as well as bug fixes.
Main PowerArchiver– Every part of main PowerArchiver window has been upgraded.
Backup– Many smaller changes and bug fixes.
Explorer view enhancements– Much better support for Windows Libraries (documents, downloads, pictures, etc) in File Manager mode (Explorer view).
Better support for various different languages– Better support for various languages (displaying non native character sets). More translations to come in next month.
Many other improvements and bug fixes– Many other improvements and bug fixes. Several hundred closed tasks.
You can download PA 2016 RC3 via patchbeam or via download site. Please remember to get your new codes from your account or use online codes if your PowerArchiver Select is still valid. Thank you for your continuous support since 1999, and making PowerArchiver better with your comments, requests and wishes!