Dear users,
After successful 2011 for ConeXware, here is the first update of PowerArchiver in 2012. This is comprehensive update that adds many small changes, tweaks, improvements and fixes to PowerArchiver.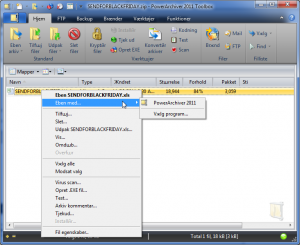 Here is the list of changes:
PowerArchiver 2011 12.10 Changes:
Added IMG support – added support for IMG files to PA, shell, burner, virtual drive.
Improved Office/Modern interface – Improvements to the look/feel of (optional) Office/Modern ribbon interface.
Improved ISO, RAR, 7z, TAR, BZ2 support – Various improvements for many of our compression engines.
Improved ZIP AES – Better compatibility with older versions of PowerArchiver as well as files larger than 4 GB. Updated FIPS 140-2 mode.
Added more Enterprise options – Administrators can disable shell access inside PowerArchiver.
Improvements in UAC support – Better support for automatic UAC elevation in various occasions, other various improvements.
Added Danish translation – Added Danish and improved other translations.
Updated FTP engine – Updated FTP engine, Faster SFTP operation other improvements.
Updated Burner engine – Updated Burner engine adding support for more devices.
Reduced installer by 1 MB – Reduced installer size by 1 MB via our own compression optimizations.
Other improvements, tweaks, fixes – Over 50 improvements implemented.
For the future updates, look at PAOP 64bit coming very soon. Work on our next generation format – PAF is progressing excellently. We have finished most of the work for successful delfate recompression codec (PDF, PNG, DOCX, OODT), with excellent results. You can vote on our next task by clicking here.
As always, please Patchbeam the update or download from our download site.