PowerArchiver 2016 Advanced Codec Pack – .PA
New Advanced Codec Pack – .PA.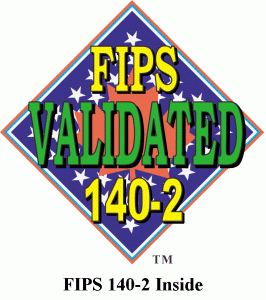 PowerArchiver Professional is built to satisfy all U.S. Government open data transport and storage requirements with FIPS 140-2 compliant data protection. Compress and Encrypt data from storage to transport in full compliance with all U.S. Government requirements.
Important FIPS 140-2 compliance topics
Safeguard data at rest and storage – ZIP AES 256 encryption is used with FIPS 140-2 validated modules. This makes your encrypted files in compliance with FIPS 140-2 during rest/storage.
Safeguard data during transport – PowerArchiver Secure FTP uses FIPS 140-2 validated modules for compliance with FIPS 140-2 standard during data transport.
Unmatched Security features with FIPS 140-2 compliance
PowerArchiver comes with an unprecedented level of security features. Not only does it fully support the ZIP 256bit AES standard, PowerArchiver also offers several additional security tools.
Full support for ZIP AES encryption, 128-bit/192-bit/256-bit (supports: PKZip 5.1 (full), Secure Zip 8.0 and WinZip 9.0 AE-1 & AE-2). Only utility fully compatible with both WinZip and Secure ZIP encryption. This insures that ZIP/ZIPX files sent via PowerArchiver can be opened by maximum number of compression utilities supporting ZIP AES standards.
Password Policies – Allows you to setup minimum password policy/rule, to force your users to enter passwords with proper length and mix of characters, so they will be harder to crack. Options include: minimum password length, forcing of lower case, upper case, numeric and symbol characters, independently. Click here for Youtube Tutorial
Password Profiles – You can setup password profiles and then you can select them from the dropdown during password entry, thus enabling higher productivity. It works both in Encryption and Decryption, for all modes supported. Click here for Youtube Tutorial.
File Wipe – Wipes your temporary files by using DoD 5220.22-M suggested methods for clearing and sanitizing information on a writable media. You can select between 1, 3 and 7 passes. Click here for Youtube Tutorial.
FIPS 140-2 Validation certificates – For FIPS 140-2 compliance, PowerArchiver
uses Microsoft CryptoAPI's Enhanced Cryptographic Provider, that is validated against FIPS 140-2. This is Windows OS system level component provided by Microsoft. FIPS 140-2 certificates are as follows: Windows 8 (cert.
#1894
), Windows 7 (
cert #1330
), Windows Vista (cert. #
1002
) Windows XP SP3 (cert. #
989
), Windows Server 2012 (cert.
#1894
), Windows Server 2008 R2 (cert. #
1337
), Windows Server 2008 (cert. #
1010
), Windows Server 2003 (cert. #
1012
).
Ease of Installation and User Management
PowerArchiver has been used by some of the world's biggest companies for past 16+ years. It is easy to install and manage via GPO policies and almost every possible way for application management on Microsoft Windows OS. You can be setup and running PowerArchiver on your enterprise desktop in less than 5 minutes with single registration key for all of your users, silent installation, and excellent interface configuration that allows you to remove features that you don't want to use. Any PowerArchiver setting can be forced/locked if configured by Administrator.
Most used Administrative features supported by PowerArchiver
Windows Installer installation – Windows installer based installation for maximum ease of use.
Simple registration via registry key – key can be deployed via GPO or via regsvr32 merge before/after installation.
Force settings on users – Administrator can force any setting on the user. For instance, forbid any of PowerArchiver online features, enforce ZIP AES 256 encryption and FIPS 140-2 mode, enforce minimum password policies, disable any of the major features individually and simplify interface (FTP, Backup, Encryption Suite, Data Burner).
Includes PowerArchiver Outlook Plugin
Includes PowerArchiver Outlook Plugin with following features: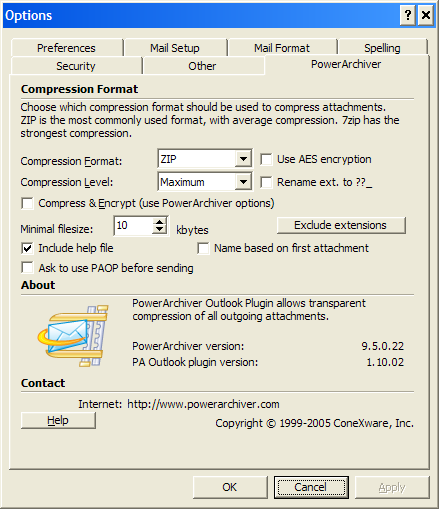 Can be configured to work automatically without user input.
Compress in multiple formats (ZIP, ZIPX, 7-Zip, CAB, TAR.GZ) with different settings.
Powerful 256-bit encryption support with AES256bit ZIP/ZIPX standards. FIPS 140-2 Certified.
Create SFX (Executable) attachments compressed in CAB or ZIP formats.
Rename extension of attachment automatically to bypass mail filters.
Exclusions based on extension with predefined commonly used extensions.
Name attachment based on first file and filter based on minimum file size.
Option to include help file with attachment.
Easy configuration rules for Administrators.
Windows Installer based installation.
Superb compatibility with all versions of Outlook, from Outlook 2000 to Outlook 2013 (both 32bit and 64bit). No crashing or Microsoft Outlook hanging.
Includes PowerArchiver Secure FTP
PowerArchiver includes Send To Secure FTP feature that enables you to send files quickly and reliable to secure ftp servers. All well known ftp server standards are supported, including SFTP and FTP over SSL. PowerArchiver Secure FTP is fully FIPS 140-2 certified and satisfies U.S. Government data security standards.
PowerArchiver Secure FTP uses FIPS 140-2 validated OpenSSL library for compliance with FIPS 140-2.
Includes PowerArchiver Command Line (PACL)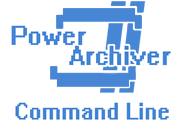 PACL is an advanced standalone command line archiving utility for Windows console environments. It fully supports a variety of the most popular compressed file formats, including: ZIP, ZIPX, 7-ZIP, CAB, JAR, TAR, TAR.GZ, TAR.BZ2, yENC, Base64, CAB SFX and many others. PACL also includes 5 different encryption methods. PACL was designed to be a versatile, reliable and scriptable application that can be used in many different configurations and scenarios. It is FIPS 140-2 certified and fully satisfies U.S. Government requirement for open standards and data protection.
Multiple lic. (multilingual)
1 License

2-9 License

10-24 License

25-49 License

50-99 License

100-199 License

200-499 License

500-999 License
Multiple licenses (English)
1 License

2-9 License

10-24 License

25-49 License

50-99 License

100-199 License

200-499 License

500-999 License
CONTACT US
1-800-302-8800 GOVERNMENT DISCOUNT AVAILABLE!
Accessibility
Section 508 Compliance
Every version of PowerArchiver 2015 is Section 508 Compliant. Please
click here
to download VPAT PDF.
System Requirements
Operating systems:
Windows 10
Windows 8.1
Windows 8
Windows 7
Windows Vista
Windows XP
Windows Server 2012
Windows Server 2008
Windows Server 2003
Computer:
Every computer which runs one of the above mentioned operating systems at a reasonable speed.
Disk Space Requirements:
150 MB for the program files plus some additional space for backup files (minimal).
Miscellaneous:
Multicore processor recommended for best speed.
Translations
PowerArchiver has been translated to: English, German, French, Spanish, Italian, Brazilian-Portuguese, Russian, Ukrainian, Belarus, Polish, Czech, Slovak, Croatian, Simplified Chinese, Traditional Chinese, Hebrew, Danish, Dutch, Finnish, Japanese Languages.