Dear users,
PowerArchiver 2016 16.10.14 has been released today on Slow Ring! This release has been published on Fast Ring on July 13th. It contains small fixes with progress bar behaviour and few other things. As usual, Slow Ring releases are delayed to ensure more testing time so if you want latest PowerArchiver version, make sure to use Fast Ring updates – see below how to change the setting required.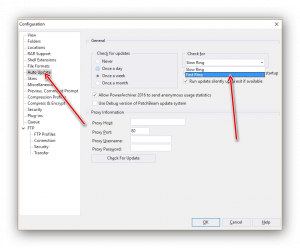 Fast Ring / Slow Ring update system reminder – We have introduced fast/slow ring update system since release of PA 2016. Please go to Config> Auto Update and select Fast Ring to get our "weekly" updates. For more info, visit our forums, each release is listed there and is based on your feedback via forums, web chat, and support. Contact us via any way you wish (email, chat, forums, support, phone) and let us know what want in next release! Please note: This update will be published as Fast Ring update and as latest official version on the download site. Slow ring users will get this update by the end of the month (Slow ring will be updated 1 time per month max, while Fast ring can get up to 2-4 updates per month).
Release Notes – PowerArchiver 2016 – Version 16.10.14

from 16.10.12 to 16.10.14
Improvements/Fixes

Release Notes – PowerArchiver – Version 16.10.14
PA-182 – Slight difference in timer behaviour in progress bar between shell and main PA.
PA-185 – Editing FTP profiles through shell shows an error.
PA-176 – Issue with decrypting BH archives.
You can download PA 2016 16.10.14 via Patchbeam (fast ring only) or via download site. Thank you for your continuous support since 1999, and making PowerArchiver better with your comments, requests and wishes!