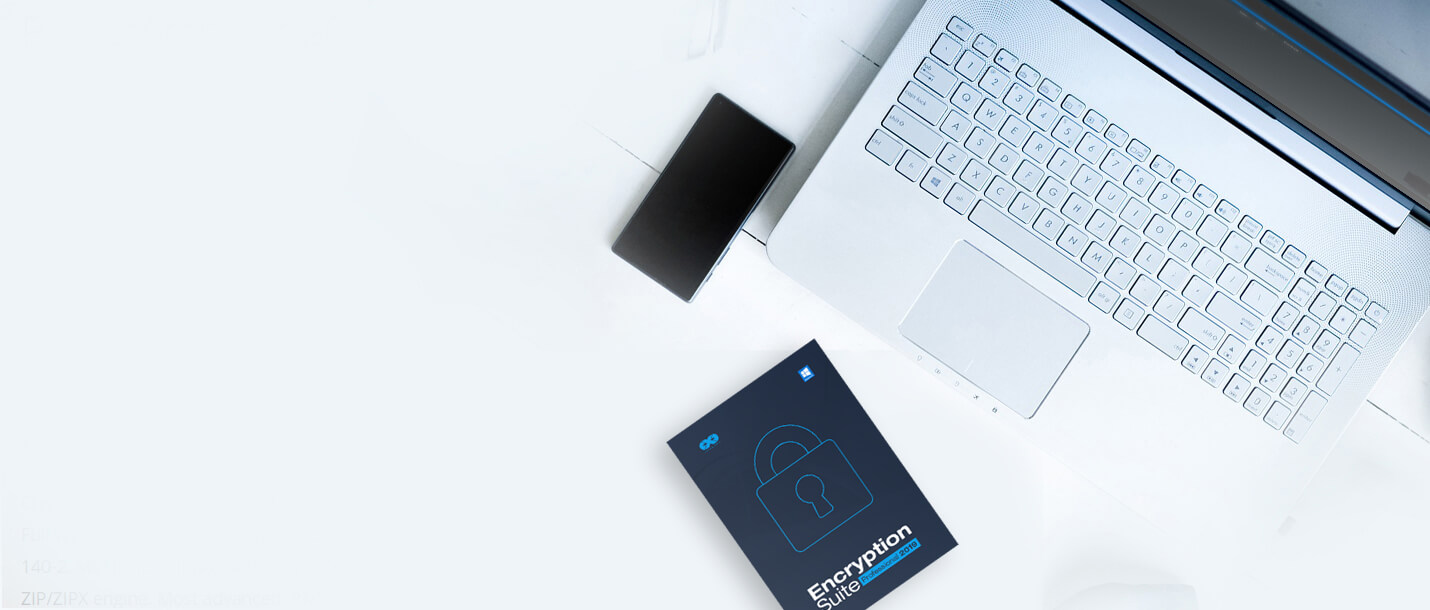 Encryption Suite Professional 2019
Encrypt files, documents, virtual drives in one comprehensive tool.
---
What's Included:
Encryption Suite contains 3 main components – File Encryption lets you encrypt any file in several formats (ZIP, OpenPGP and more), Document Encryption lets you encrypt office documents with their own built in encryption – DOCX, PDF (and more…), while Secure Storage lets you create encrypted virtual drives that are easy to use via Windows Explorer.
More Info about Encryption Suite Pro
Encryption Suite with 3 comprehensive security tools:

File Encryption

ZIP/ZIPX AES 256-bit Encryption/Decryption – Full support for industry standard – ZIP/ZIPX 256-bit AES Encryption, fully compatible with open data standards and all of the major compression utilities. Encryption Suite Pro has the most advanced support for opening various encrypted ZIP archives, fully compatible with all options inside WinZip and SecureZip.
Encrypt/Decrypt files with OpenPGP standard – Create and Open encrypted OpenPGP files with various different Encryption options. Fully featured!
OpenPGP Key Manager – Create, Add new OpenPGP keys via fully featured OpenPGP Key Manager.
FIPS 140-2 certified – Encryption Suite uses FIPS 140-2 certified components for AES encryption.
Support for PA format – Full support for PA format encryption with filename encryption, 256-bit AES encryption, using FIPS 140-2 validated encryption modules. Due to unique format features, it is more secure than ZIP and 7-zip AES encryption.
Support for PAE and 7-zip formats – Full support for PAE and 7-zip AES encryption formats.
Multiple/Batch File Encrypt and Decrypt – Encryption Suite supports encrypting and decrypting hundreds of files at the same time.
Password Policies – Set minimum password strength that your users have to enter.
Password Manager – Save passwords used for convenient handling of encrypted files.
Password Profiles – Pre-define your passwords and use them conveniently.
Sign Files – Sign files with OpenPGP format.Beautiful interface with full skinning support, shell extensions, system tray app and more!

Document Encryption

Office Encryption & Decryption – Encrypt and Decrypt Office files with secure encryption!
PDF Encryption – Encrypt PDF files with secure encryption!
Office Sign & Verify – Sign and Verify Microsoft Office and Open Office files.

Secure Storage

Virtual Encrypted Drive – Secure Storage will let you create encrypted virtual drives that can be used in our Explorer application or mounted as a drive in Windows. When mounted as a drive, a secure drive will show as D:\ (or any other drive letter you select during its creation) and you will be able to use it via any Windows application as any other regular drive! This makes its usage significantly more convenient than constantly adding and/or extracting files from your encrypted archive.
256-bit AES encryption – Files are encrypted using secure 256-bit AES encryption!
OpenPGP encryption – Secure Storage supports OpenPGP encryption as well.
Smart features – include automatic startup with Windows, automatic log-out after xx minutes and more.
Automatic Startup – Select your drive to be automatically mounted when Windows starts.
Set Expiration time for your Secure Drive – Automatic dismount of your Secure Storage Drive after a pre-specified time period.
Multiple licenses
(english)
1 License $49.95
2-9 License $35.00
10-24 License $28.00
25-49 License $22.00
50-99 License $17.00
100-199 License $14.00
200-499 License $10.50
500-999 License $7.00
Accessibility
Section 508 Compliance
Every version of PowerArchiver 2018 is Section 508 Compliant. Please click here to download VPAT PDF.
System Requirements
Operating systems:
Windows 10
Windows 8.1
Windows 8
Windows 7
Windows Vista
Windows XP
Windows Server 2016
Windows Server 2012
Windows Server 2008
Windows Server 2003
Computer:
Every computer which runs one of the above mentioned operating systems at a reasonable speed.
Disk Space Requirements:
150 MB for the program files plus some additional space for backup files (minimal).
Miscellaneous:
Multi-core processor recommended for best speed.
Translations
Catalan, Croatian, Chinese (Simplified), Chinese (Traditional), Czech, Danish, Dutch, German, Estonian, English (USA), English (UK), French, Finnish, French, Hebrew, Hungarian, Indonesian, Italian, Japanese, Norwegian, Polish, Portuguese (Brasil), Portuguese (Portugal), Romanian, Russian, Serbian (Cyrillic, BiH), Serbian (Latin, Serbia), Spanish (Argentina), Spanish (Spain), Slovak, Slovenian, Swedish, Turkish, Ukrainian, Korean languages.