Dear users, today we are releasing PowerArchiver build 15.04.03.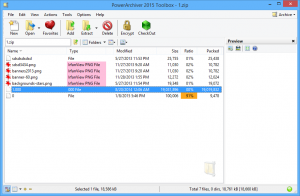 Here is the list of changes:
Improved format support – added support for several reported archives.




Backup improvements – Improvement for the selection window in the backup.




Added back support for weak zip encryption – added back support for weak zip encryption pk 2.04g due to user feedback. Added support to disable the option at administrative level.




Added more enterprise options – Added several new options for advanced/enterprise level users.




Improved translations in classic view – Updated support for non-latin character sets in classic view




Various other fixes and improvements – Over 20 improvements and fixes in total including Encryption Suite and Multi-extract tool.




You can download PowerArchiver 2015 15.04.03 from our download page or via Patchbeam.