PowerArchiver Version History 1998 – 2014
List of changes to PowerArchiver through last several years. Please understand that BETA versions are not included, only final releases and that we have at least 5-6 beta releases before every major release.
PowerArchiver 2013
PowerArchiver 2013 14.02 Changes:
January 8th 2013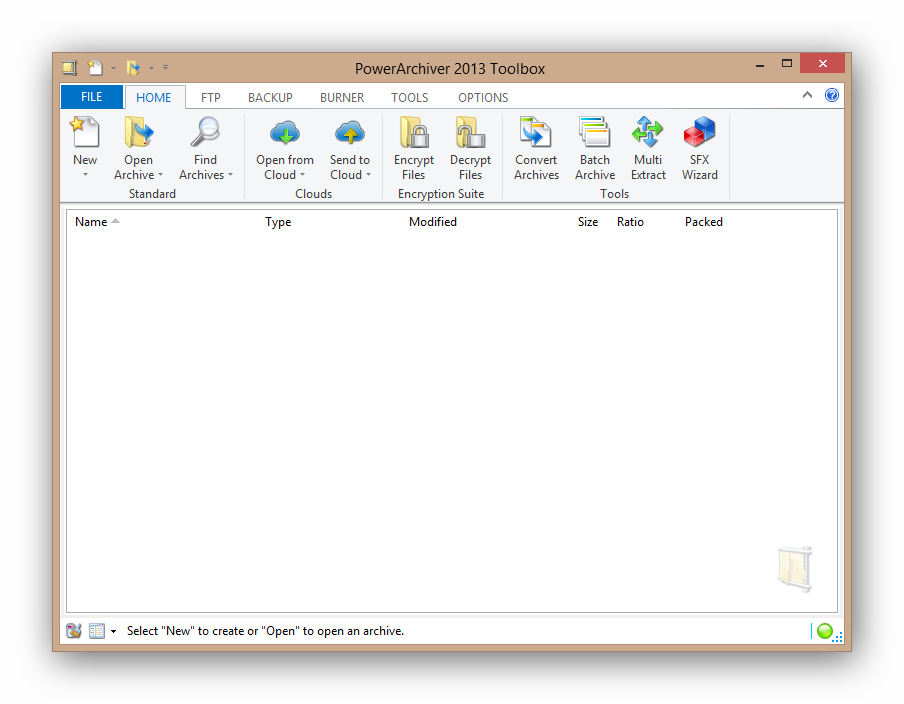 Updated PowerArchiver Cloud – Significant update to the core engine as well as the GUI of PowerArchiver Cloud application. Brand new core engine makes accessing clouds with thousands of files much faster than before – for example 10,000 files on SkyDrive used to take up to 7-8 minutes, now it is several seconds to access. Similar improvements to other clouds such as Amazon S3, Microsoft Azure, Google Drive and Dropbox. GUI was also improved to look more like full application, with icons in the file list and "…" shortcut for easier browsing. Full help and YouTube video tutorial added.


Windows XP security fix issue – One of the Microsoft Windows XP security fixes from December 10th 2013 prevented PowerArchiver from starting due to missing dependency (unusual and probably not intended from MS to break compatibility). This has been fixed in 14.02.


Support for Ultra compression in Drag and Drop – Added support for Ultra compression strength in Drag and Drop window.


Updated Translations – Brand new Korean translation, as well as updated Hebrew and Simplified Chinese translations.


Improved format support – Improved format support for RAR, TAR, 7zip. Added support for IPK files.


Various other small improvements – Total of 25 improvements/bugfixes implemented since previous release.
PowerArchiver 2013 14.01 Changes:
November 6th 2013
Updated UnRAR engine – Updated unRAR engine to latest build – improved speed for PPM codec extract speed by up to 40%.


Added OpenPGP HKP key server support – Added support for Open PGP servers, by supporting HKP protocol. Users can search and upload public keys to any HKP server, such as pgp.mit.edu.


Added support for non-standard ZIP files – Added support for some non-standard ZIP files (such as ones created by Dropbox).


Various fixes and improvements – Overall, over 20 various changes/improvements/fixes implemented.


PowerArchiver 2013 14.00 (First release) Changes:
September 18th 2013
Full OpenPGP support via Encryption Suite – Full support for OpenPGP format. From encrypting/decrypting files to creating/importing/exporting OpenPGP keys. PowerArchiver can encrypt any archive with OpenPGP format and then Add/Delete/Edit files inside transparently, without need to go through several steps as with competing products.


Encryption Suite – Brand new Encryption Suite – application designed to make process of Encrypting and Decrypting your files easier. You can use 4 different formats – ZIP/ZIPX, OpenPGP, PAE and 7-zip, all with AES 256 bit encryption. FIPS 140-2 certified for use in U.S. Government. Encryption Suite is designed to support encrypting/decrypting hundreds of files at the same time. Full support for all of PowerArchiver security features such as Password Manager, Password Policies and Password Profiles.


PowerArchiver Cloud – PowerArchiver Cloud can Download/Upload/Add files/archives from following business/SOHO cloud services: Amazon S3 and Microsoft Azure; consumer level cloud services like: Dropbox, Google Drive, Box.net, Microsoft SkyDrive as well as our own experimental AttachmentCloud service.


More Advanced Modern/Ribbon Interface – New Windows 8/Office 2013 inspired skin makes PowerArchiver interface look stunning, while making it easier to use. Truly best of both worlds. Classic toolbar option still remains, now with improved loading speed.


RAR 5 format support – PowerArchiver can open and extract RAR 5.x files. Of course, you can even create/edit them if you configure rar.exe to be used within PowerArchiver!


Significantly Faster ZIP engine – Our advanced multi-core ZIP/ZIPX engine has been optimized for maximum speed, now up to 30-50% faster than WinZip's multi-core engine (and much much faster than SecureZIP's and WinRAR's ZIP engines), while providing similar compressing strength.


Power saving mode for ZIP engine – ZIP/ZIPX engine has been optimized to spend less CPU power when your laptop is in power saving mode. PowerArchiver will take up significantly less CPU when you have power saving mode, while still being quicker than competition, thus saving your battery while you are on the road.


Special skin for Remote Desktop – Simplified white color skin for Remote Desktop/VNC usage. Enables faster redrawing for slower connections to RDP.


Improved handling of various formats – Improved support for NSIS, PA SFX's, ZIP.001 archives, tar archives and more.


Faster SFTP speeds – Improved SFTP speeds for both download and upload.


Easier registration system with PowerArchiver Select – Implemented better registration system, integrated with PowerArchiver Select. It automatically updates your codes for major versions as long as PowerArchiver Select is active.


Hundreds of other Improvements – Overall, over 300 various changes/improvements/fixes implemented.
PowerArchiver 2012
PowerArchiver 2012 13.03 Changes
January 22th 2013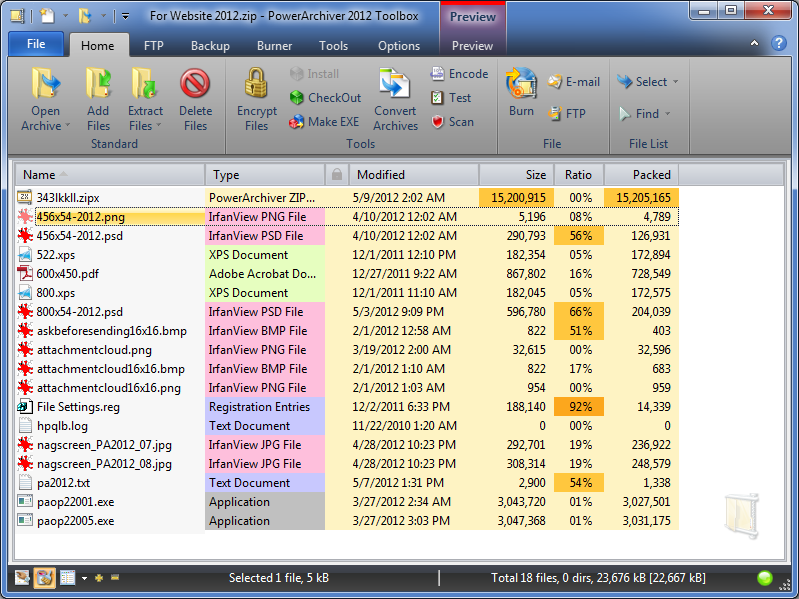 Windows 8 support – Various smaller changes for official Windows 8 Certification.
Backup: date options – Enabled date options for file naming as default so users wont by accident overwrite their old backups.
Backup: tar.gz support – Improved TAR.GZ support in backup.
Virtual Drive: IMG support – Added support for IMG files in Virtual Drive.
Drag & Drop: Profiles – Added support for Compression Profiles in Drag and Drop window.
Preview Window Improvements – Disabled preview window for file selection when renaming files.
ZIP format – Added support for extracting folders with invalid name in Windows File System (/.example/).
Archive Converter with Encrypt Filenames – Added support for Encrypting Filenames in Archive converter (added in 13.03.02).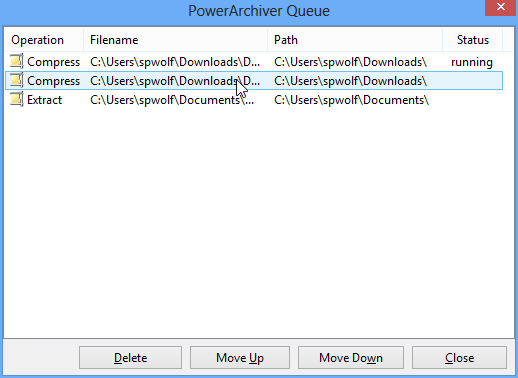 PowerArchiver 2012 13.02.02
September 25th 2012
Completely new PA Starter – PA Starter built from grounds up for better Windows 8 performance.


Windows 8 file associations – Windows 8 file associations used for Default Programs option in Windows 8.


PowerArchiver 2012 13.01.04:
September 10th, 2012
Whats New:
Improved default interface options – Improved default interface options.
PASTARTER Change – PASTARTER (Queue) reverted back to previous version.
Improved RAR engine – Increased speed of RAR engine by 15% on average.
Better look for Windows Classic theme – We improved the look of some windows if Windows classic theme is running. They look slightly different now depending on OS you have installed.
Improved Test Archives Tool – Better detection of broken archives.
Added option to not install Patchbeam for Enterprise users – Added option to not install Patchbeam for Enterprise users.
Improved Simple mode – Simple mode now shows FTP/Burner tabs.
Added SFX creation support in shell – Added support for creating SFX's via Windows shell.
Various other improvements – Over 25 fixes/improvement since 13.00.26 release!
PowerArchiver 2012 Changes:
July 17th, 2012.
File list color coding – Background color of file list columns changed based on file size, compression ratio, file type. Completely configurable. Button on status bar for easy on/off.
Enhancements of Modern/Ribbon interface – Active tabs based on file currently clicked on (Preview tab currently).
Easy/Advanced Ribbon interface options – new Easy option for interface that removes less used tabs to make it easier for new users to start using PowerArchiver. Button on status bar for easy on/off.
RAR Compression support – PowerArchiver will use WinRar to compress to RAR within PowerArchiver interface.
RAR Extraction improved – 5% speed improvement on RAR extraction, up to 15% faster than WR 4.x, 30%+ over WR 3.9x.
New Explorer mode for reading archives – New mode that shows paths as folders but does not display contents of hard drive, set as default option.
Redesigned Shell Interface – easier to use, easier to view.
Encrypted Icon – Added encrypted icon to the file list, for easier recognition of encrypted files inside archive.
Improved look of various windows – such as progress bar, etc, matching Win8 look more.
Wiki Help by default – converted help to Wiki online system, enabling better search, youtube tutorials (over 20+ available), better translations for the future and user interactions. Offline help pack will be available.
Single version – Multilingual, improvements – From now on, PowerArchiver will be distributed only as Multilingual software, with over 20+ translations. Due to compression improvements and online help, multilingual version has been reduced in size by almost 50%.
Password Policies – Allows you to setup minimum password policy/rule, to force your users to enter passwords with proper length and mix of characters, so they will be harder to crack. Options include: minimum password length, forcing of lower case, upper case, numeric and symbol characters, independently. Click here for Youtube Tutorial
Password Profiles – You can setup password profiles and then you can select them from the dropdown during password entry, thus enabling higher productivity. It works both in Encryption and Decryption, for all modes supported. Click here for Youtube Tutorial.
File Wipe – Wipes your temporary files by using DoD 5220.22-M suggested methods for clearing and sanitizing information on a writable media. You can select between 1, 3 and 7 passes. Click here for Youtube Tutorial.
PowerArchiver 2011
PowerArchiver 2011 12.12.03 Changes:
March 23rd, 2012
Improved TAR handling – Improved behavior when working with large TAR archives.
Improved rename box – Consistent size between different dialogues, F2 now activates rename file inside archive dialogue.
Improved Windows 8 support – Small improvements for Windows 8 Consumer Preview support.
Modern interface and backup option – Modern interface will now allow backup for Professional users.
Better Unicode compatibility with PAOP – Added improved Unicode compatibility for interaction with PAOP for new PAOP release 2.20.05.
PowerArchiver 2011 12.12.01
February 14th, 2012
Improved AES handling – Improved behavior when working with AES ZIP archives.
Expanded rename box – Doubled the width of rename file box for easier renaming.
Improved Backup – Added better error logging to the backup logs, Improved Scheduler, Better Enterprise support.
FTP Improvements – Added support for Livedrive FTP as well as updated FTP engine
Other improvements, tweaks, fixes – Over 12 improvements implemented.
PowerArchiver 2011 12.10 Changes:
January 5th, 2012
Added IMG support – added support for IMG files to PA, shell, burner, virtual drive.
Improved Office/Modern interface – Improvements to the look/feel of (optional) Office/Modern ribbon interface.
Improved ISO, RAR, 7z, TAR, BZ2 support – Various improvements for many of our compression engines.
Improved ZIP AES – Better compatibility with older versions of PowerArchiver as well as files larger than 4 GB. Updated FIPS 140-2 mode.
Added more Enterprise options – Administrators can disable shell access inside PowerArchiver.
Improvements in UAC support – Better support for automatic UAC elevation in various occasions, other various improvements.
Added Danish translation – Added Danish and improved other translations.
Updated FTP engine – Updated FTP engine, Faster SFTP operation other improvements.
Updated Burner engine – Updated Burner engine adding support for more devices.
Reduced installer by 1 MB – Reduced installer size by 1 MB via our own compression optimizations.
Other improvements, tweaks, fixes – Over 50 improvements implemented.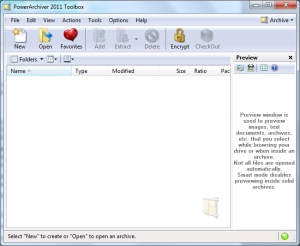 PowerArchiver 2011 12.01
September 22nd, 2011.
Added NRG support – added support for NRG files (Nero disc images)
Improved ISO support – Fixed some issues with creating new ISO files
Improved RAR support – Fixed specific issue with opening certain rar files
Fixes and improvements in backup tool – several improvements and fixes in PowerArchiver Backup
Other minor fixes – Total of 13 bugs were squashed in this update.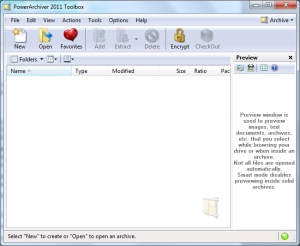 PowerArchiver 2011 12.00
July 28th, 2011.
UAC Compatibility with Vista and Windows 7 – first archiver to completely integrate with Windows 7 and Vista, and offer true support for User Account Control (UAC). Do you want to compress or extract to folders that only Administrator can? No problem anymore – PowerArchiver 2011 will elevate itself to Administrator user, first archiver to do so.
Full VSS support in Windows XP, Vista and Windows 7 – need to compress files that are locked? Databases, Outlook emails, anything that is locked by Windows and not compressible by any other compression utility? PowerArchiver 2011 is first compression utility to utilize Volume Shadow Copy (VSS) and enable you to compress any file on Windows XP, Vista and Windows 7.
Faster startup – We looked hard and optimized startup time for PowerArchiver 2011. Registered users will see at minimum 0.5s difference between older versions, and users with slower computers will see much bigger differences.
Edit multiple files – Edit and Update unlimited number of files inside archives. PowerArchiver will continuously monitor all files you have opened for any changes.
Patchbeam Update System – Get latest version via 2 second updates, made possible by our Patchbeam update system.
Save and Restore Settings – Easily Import and Export PowerArchiver settings.
Play sound when Done – Plays sound once operation is done (pick any tune you want!)
Improved shell extensions – ability to split tools into separate shell extensions, added special compress to zipx shell extenion.
Improved File Manager – now with breadcrumb bar for easier navigation, as in Windows 7.
Better support for large DPI – PowerArchiver 2011 windows and dialogues now automatically adjust to larger font DPI.
PowerArchiver 2011 Format support changes:
Faster Unrar – Have many RAR files? PowerArchiver 2011 has fastest unrar engine on the planet, 10% faster than WinRar 4.0.
Improved ZIP support – Better handling of ZIP files with foreign filenames, faster large archive compression.
Better TAR support – You can now compress and extract TAR files over 4 GB in size, and do it faster than ever before. PowerArchiver can also now compress and extract tar.xz format.
Better ISO support – Extract UDF ISO's, in addition to Extracting ISO9660 files, not only that but it is now up to 2x faster than before. You can also create both UDF (unicode and over 4GB) and ISO9660 files.
Better 7-zip support – Create and Extract LZMA2 archives.
Better LHA support – better support for compressing and extracting LHA/LZH archives.
Added support for extracting multiple new formats: MSI, NSIS, CHM, DMG, RPM, CPIO, VHD, XAR,

LZMA, SquashFS, CramFS and WIM.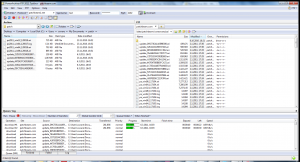 PowerArchiver Secure FTP Client changes:
Completely new Secure FTP client – Our FTP client has been rebuilt from grounds up, everything is 100% new.
Secure protocols added – Added support for SFTP, FTP with SSL and FTP with SSL/TLS protocols.
Integration with PowerArchiver – Upload files from archives to FTP and Download them directly to archive, without needing to unpack anything!
Multiple tabs – Tabbed interface for multiple server connections.
Quick ZIP and Send – Single button click zips (your choice of formats) and uploads selected file.
Edit and update files – continuously track multiple edited/opened files and update them as needed.
Bandwidth Limiter – limit bandwidth used with easy and visible option.
Ribbon interface – first FTP client with Microsoft Office licensed ribbon interface for easier use (optional).
Advanced Queue system – with multiple transfers and global transfer limits.
Unique Folder queuing – are you uploading/downloading complete folder? FTP client will have to login only once for faster uploads/downloads.
Disconnect or shutdown – After queue is completed, you can set it to disconnect from the server or even shutdown your computer.
And much more – Proxy, SOCKS,  Advanced Overwrite options, and more!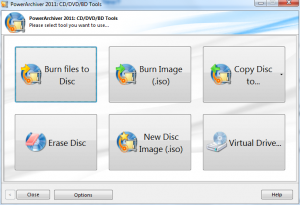 PowerArchiver Data Burner changes:
Standalone Interface – From version 2011, you can start Burner standalone, without starting PowerArchiver.
Copy Disc to Disc directly – You can now copy directly from Disc to Disc (CD, DVD, BluRay).
UDF support – Full support for UDF disc format that supports burning files larger than 4 GB and unicode filenames.
Improved Shell Extensions – Mount and unmount Virtual Drives from shell extensions directly.
Persistent Virtual Drives – Mount Virtudal Drives persistently so they stay mounted even after computer restart.
Close tray option – Automatically close tray after burning is done.
PowerArchiver Backup changes:
Full VSS support – Backup any file on Windows XP, Vista and Windows 7, without having to worry if something is using it. With this feature, PowerArchiver Backup becomes Enterprise class Backup tool that can compress any database on your computer.
Secure FTP support – backup to SFTP, FTP with SSL and FTP with SSL/TLS secure ftp servers.
Better Burning support – backup larger files and close disc tray after burning is done.
Improvement in speed – faster backups for larger files.