Dear PowerArchiver Users,
We are pleased to present the release of the latest version of PowerArchiver 2019 – 19.00.58.
Here is a list of improvements for version 19.00.58
Translation Improvements – improved translation of PowerArchives dialogs that were not properly translating to International languages.
SmartAI configuration improvements – Improvement in the checkbox and dropdown list behavior of the SmartAI options in the Configuration menu.
Explorer view mode keyboard functions improvements – Improved the behavior of the backspace button when using all windows of the File Explorer interface and made sure that the CTRL + F function now works in the Windows 10 and Ribbon interface.
Shell extensions icon color– Shell extensions icons are back to the original and default PowerArchiver yellow color.
Adding files to .PA format archives– Fixed an issue with files in archive appearing twice when re-added to .PA format archives. Adding files to .PA fomat archives has been improved and works flawlessly.
UAC in File Explorer improvements– Improved UAC behavior when using the File Explorer interface.
Various improvements– over 10 various improvements/issues completed since release .57. For more specific fixes go to the forums.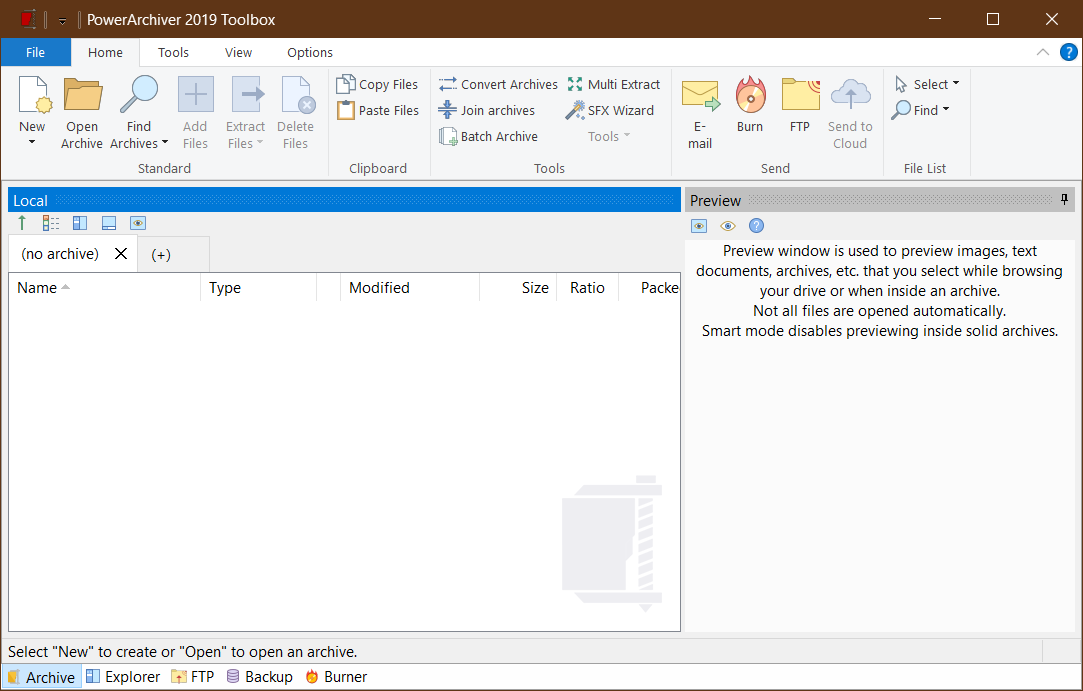 PowerArchiver 2019 is the smartest release of PowerArchiver ever. New Modern Windows 10 interface uses simplified ribbon to look great, with three all new skins – don't like the Windows 10 interface? You may still use the Classic and Windows Ribbon interfaces. SmartAI will optimize your compression, save your power, change to dark mode when necessary, enable FIPS mode system wide, enable you to work conveniently with touch screens. We made PowerArchiver ZIP compression faster. PowerArchiver Mini is back and lets you use the full power of PowerArchiver within the Windows Explorer Preview window. The Advanced Codec Pack – .pa format has been fine tuned for the best compression and speed on the market! For a list of additional changes in the new PowerArchiver 2019, please check out PowerArchiver 2019 Introduction.
PowerArchiver 2019 , with the Advanced Codec Pack (.PA), is now available for download at our download page as well as Patchbeam for PowerArchiver 2019 users. Thank you for your support since 1998!