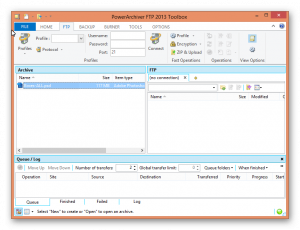 Dear users, we have released latest version – 14.06.03.
THis is a minor update that fixes several reported issues.
Here is the list of changes:
Version 14.06.03

Add Window – Added back navigation toolbar.
Shell Extensions – Several fixes to the issues users reported.
Version 14.06.01

Added ZIPX – XZ support – Added support for extracting new XZ codec in ZIPX format that is used by WinZip 18.5.




Various improvements in FTP tool – Improves several different issues found in Secure FTP tool in PowerArchiver.




Improved GZIP handling – Improved compatibility with some GZIP (tar.gz) files.




PowerArchiver Backup improvements – Added ability to upload multivolume files to Clouds and Secure FTP in backup.



You can download PowerArchiver 2013 14.06.03 from our download page or via Patchbeam from PowerArchiver.