Dear users,
PowerArchiver 2016 16.10.07 has been released today! We have listened to your feedback via forums, chat, fb/twitter, support and email for this comprehensive update. We have switched our issue tracker to new software since April and as such we can provide better information of what has been update. Keep in mind that there are always improvements not written down as issues in the tracker but still implemented in the release.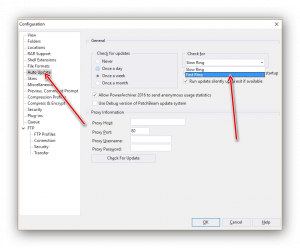 Fast Ring / Slow Ring update system reminder – We have introduced fast/slow ring update system since release of PA 2016. Please go to Config> Auto Update and select Fast Ring to get our « weekly » updates. For more info, visit our forums, each release is listed there and is based on your feedback via forums, web chat, and support. Contact us via any way you wish (email, chat, forums, support, phone) and let us know what want in next release! Please note: This update will be published as Fast Ring update and as latest official version on the download site. Slow ring users will get this update by the end of the month (Slow ring will be updated 1 time per month max, while Fast ring can get up to 2-4 updates per month).
Release Notes – PowerArchiver 2016 – Version 16.1

from 16.03.01 to 16.10.07
Improvements

PA-49 – Add Ability to search files at all levels of folder structure (using find files)
PA-34 – Add file information for archive in extract/add dialog
PA-86 – Add support for latest Offline help files, publish offline help on download pages.
WEB-27 – Update help files with new tutorials and up to date information.
PA-55 – Explorer view: while browsing hdd in explorer mode, save last used location
PA-75 – Preview files in archive using keyboard (up/down arrows).
PA-92 – Do not save encryption options under last used options in PA main add window and PA shell add window
PA-95 – Display compression/extraction speed in progress window (MB/s)
PA-96 – Add support for PSF skins (format icons, toolbar icons).
PA-101 – Comment window – changed font in comment window also applies to the comment dock.
PA-109 – Backup: Keep %backupscriptname%.log as filename when clicking browse button to change path of log file
PA-112 – Create help tip over current filename in progress bar
PA-124 – update 7zip dll to 16.00
PA-133 – Automatically add new backup to the backup list when using main PA interface
PA-147 – do not add empty folders during backup with include only filter
PA-74 – Add new korean update to the installer
PA-117 – Add support for tar.xz in Archive Converter
PA-123 – Implement Always on Top option for other applications (Encryption Suite, Burner, Backup).
Fixes

PA-114 – FTP log output window – fix some spelling issues
PA-2 – FTP profile created in backup does not stay saved as FTP profile
PA-3 – Classic interface, burner/ftp/backup icons dropdown do not fit at 175% dpi
PA-9 – FTP: « after finishing queue » dropdown does not show checked items
PA-10 – Cloud: black border around treeview, despite skinned window
PA-17 – Wrong color for treeview when out of focus in dark skins
PA-25 – Cloud: Clear Saved Settings not being applied for OneDrive
PA-37 – Color coded list in modern skins should work the same as in classic
PA-38 – Remove app icons from start menu /programs folder if user registers Standard or Pro
PA-42 – Vitual Drive does not translate to Korean on Autodetect
PA-52 – Spanish version text display issues
PA-57 – Backup does not upload to specific cloud folder
PA-58 – Backup sort fields for Name and Last Run are not working in backup list in main PA – Backup interface
PA-71 – Backup: Remove ability to add blank filter in filters
PA-72 – Keyboard shortcut missing for OK button in Converter
PA-73 – CRC error on specific ZIP – add support for that specific ZIP archive.
PA-76 – PA 2012 nag screen comes up in PA 2016 Backup
PA-90 – Classic display style does not refresh file list
PA-91 – SFX: Cannot create Zip and CAB SFX archives with folders inside
PA-102 – Comment button not shown in default skin in status bar
PA-108 – Backup: Filename remains in title bar when running backup as standalone
PA-115 – online help does not work?
PA-116 – configure clouds button in modern icons – old icon under open button
PA-118 – Batch creating Tar.Gz files from .reg files also creates a .zipx file
PA-119 – Batch creating Tar.XZ files creates .tar files
PA-122 – Make GZ default Tar method instead of XZ
PA-125 – Subfolders not included in SFX's correctly
PA-129 – Backup: Select Files/Folders window skipped when clicking Next in backup
PA-153 – Remove: Burn disc from .iso from PRO version shell
PA-154 – Cloud 2016 written twice in Cloud caption bar
PA-155 – Toolbox shell options show in registered pro version
PA-121 – Psf skins: interface skins resets to base when psf skin loaded.
PA-148 – Comment window dock shows white background in black skins.
PA-131 – Testing of bz2 files does not work properly due to specific bz2 archives (disabled testing option)
PA-99 – Fixed support for specific .ARC archive.
PA-121 – Psf skins: interface skins resets to base when psf skin loaded.
You can download PA 2016 16.10.07 via Patchbeam (fast ring only) or via download site. Thank you for your continuous support since 1999, and making PowerArchiver better with your comments, requests and wishes!