Dear PowerArchiver users,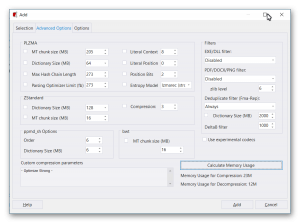 We are proud to announce that we are releasing PA 2017 RC2 today. This build is an important one as we have made a number of important adjustments in the Advanced Codec Pack – .PA format. Most importantly, we have added an MP3 codec under new feature – experimental codecs, letting you test it out before the final release. The MP3 codec will become an important part of our Advanced Codec Pack, as it beats competition such as WinZip significantly – in our testing. It doesn't just compress better, it is also 2.5x faster on 4 core / 8 thread CPU, bringing you real life usable speeds. Try it out – the codec is located under Advanced Options tab in Add window, click on Experimental Codecs to activate it. Keep in mind that the current version is experimental and will change until final, so use it just for testing at the moment.

We have improved speed and settings for a number of file types under Advanced Codec Pack, bringing you better compression at faster speeds. There is a new multithreaded ppmd_sh codec, up to 4x faster than before at similar compression levels, that is used for some image formats. We have also reworked how our mtwrap works to improve on memory usage and reliability, so bwt, zstd codecs now have new versions as well. The changes to the codecs, as well as advanced detection on what is being compressed, significantly lowered the memory used. We have added a new memory counter that will let you know how much memory is being used and you can lower it by lowering either mt or dictionary settings (or raise those settings for better compression).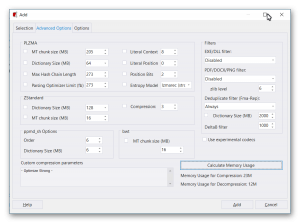 We have also made a number of usability improvements in the Add and Extract windows, shell extensions, as well as numerous other fixes and improvements. For Add window, we have now added proper compression profile support so you can set profiles that work best with certain types of files, and there is a massive amount of modifications you can make and now save for future use. In shell extensions, we have increased speed of compress/extract actions from 3-5s to instant, so that should be big improvement for all users.
As a reminder, in the Advanced Codec Pack (.PA) – Optimized modes automatically select the best codec and codec chain to be used for the particular extension set, thus providing significantly faster speed and compression rates compared to using just a single codec. We currently use 10+ codecs and filters to bring you compression speed and strength previously not available in a single format. As a user, you simply have to select a compression strength setting and it will do all the work for you. Try it out!
For a full list of changes and updates since RC1 (17.00.77), visit our forums here.
Award system for our most dedicated users
With the launch of private beta of PowerArchiver 2017, we have a more formal reward system for users that help us in detecting bugs and suggesting improvements. While previously we have given free licenses to our forum users (in 2013 everyone with more than a few posts received a free license, alpha testers always have updated licenses, etc), now there is a more formal system in place which means that everyone who reports bugs will receive a free license or a free Select maintenance plan after a few reports (depending on severity). Check it out on our forums.
PowerArchiver 2017 with Advanced Codec Pack (.PA) is now available from our download page. For more detailed info on specific features, please check other posts in our blog. We hope you will love PA 2017 as much as we do. Thank you for your support since 1998!