Dear users,
One picture is worth million words: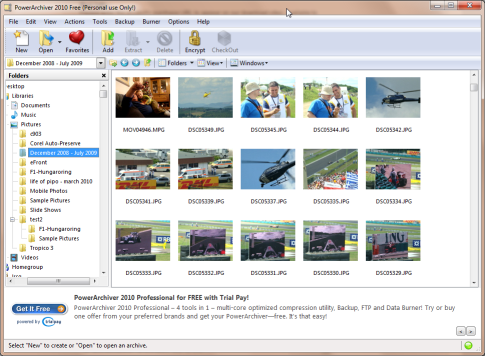 Why?
Things change. Today, freemium is becoming very popular and we decided to embrace it. While PowerArchiver has big following and around 2-3 million downloads per year, we can do much better by making PowerArchiver more accessible to wider audience. It is also important for the future, as we are expanding our development team and adding new important features. We run some polls to see what you thought and you gave us 85% go ahead!
A bit of History
PowerArchiver started development in 1998, with first public and Freeware release in 1999. We turned it into full fledged business in 2001. PowerArchiver 2001 (last freeware version) is quite popular still on search engines. Incidentally (or not), it is exactly 9 years since PowerArchiver turned shareware.  Looking back to 9 years, we would say time well spent! And we love every minute of it. PowerArchiver is work of passion and fruit of love. This is what we do!
Whats the difference?
PowerArchiver Free is freeware version of PowerArchiver (Free for personal use). All of the core functions are still there and you can create and extract every archive as in full PowerArchiver, and quite few other things are there too:
Our own ZIP/ZIPX engine with full support for ZIPX (LZMA, PPMD, JPEG, WavPack, BZ2). Yes, it is still only utility that fully supports ZIPX archives created by WinZip 12/13/14. It also has Unicode support, full AES encryption support (both versions of AES spec), unlimited file/size support.
Full 7-Zip support is still there together with unique support for updating solid archives via re-compression.
Full format support: ZIP, RAR, 7-ZIP, CAB, ACE, LHA (LZH), TAR, GZIP, BZIP2, BH, XXE, UUE, yENC, and MIME (Base 64), ARJ, ARC, ACE, ZOO plus ISO, BIN, IMG and NRG, just as regular PowerArchiver.
Plugin support (.wcx from Total Commander)
Wonderful shell extensions are 100% in.
Windows 7 support – jump lists, taskbar progress and taskbar icon overlays work beautifully.
7 different tools: Encrypt, Convert, Batch Zip, Multi Extract, SFX Wizard, Repair ZIP etc – all completely free.
Explorer View mode which turns PA into File Manager
PowerArchiver Backup with ability to create backup scripts compress them to zip format, encrypt, filter by: filename, folder, size, date.
All of features that we take for granted like drag and drop, configurable interface, MRU's everywhere…
For more advanced users…
And if people like those features, they can also upgrade to Standard/Pro editions, with lifetime licenses and these extra features:
Optimized ZIP/ZIPX/Unrar for better performance
Preview files in archives without extracting them
Queue system for sequential compression/extraction
Skins and Ribbon interface
Compression Profiles, Password Manager
CD/DVD/BD Burner – both standalone and integrated into PA.
Virtual DVD for mounting ISO files.
FTP Client window
Professional Backup extensions – better compression, backup to 3 local/network folders/DVD/FTP, Scheduling, Logging.
We tried to balance it so PowerArchiver Free has equal or more features that WinZip or WinRar , that cost $30, yet to also leave compelling reasons for advanced users to upgrade.
Whats Next?
We have been working hard on next major release, as those who follow blogs know by now. We have quite a lot already done (we cant tell!), and new Update system truly rocks – first updates were between 200kb and 2 MB in size (compared to 9 MB before). We are also expanding Pro release so make sure your voice is heard in the Pro polls. Not to mention stuff that we cant talk about… yet ;-). In the short term, we will be issuing minor updates to PA 2010, PACL and PAOP within next month as well.
And for the end
We love you. Download it now.
p.s. existing users can download PA Free to get latest release with some improvements with Win7 libraries, Skins, 7-zip support and  few other minor things. And you can perfectly use your existing registration code for it to transform it into full version! See, we thought about you too!