We are pleased to announce the upcoming PowerArchiver 2017 release, the most
important release in our history (18 years since the first one)!
PowerArchiver 2017 brings the much anticipated .PA (Advanced Codec Pack) format. It features a set of advanced codecs and filters that make .PA, most likely, the most advanced compression format today. We have been researching these new codecs and filters for the last 5-6 years and we will not stop here! We are working towards bringing more speed and additional codecs in next 2 months alone. PowerArchiver's Advanced Codec pack is on accelerated development and we cant wait to show you more! When you test it, please let us know of your requests and wishes, send us emails, write on our forums and develop our Advanced Codec Pack with us.

Main .PA (Advanced Codec Pack) Features
Two base modes: Optimized Fast and Optimized Strong deliver the fastest/strongest compression in the industry!
Smart Optimized modes select the best compression/speed on per-file basis,
increasing compression rate and speed. In one compression scenario, PowerArchiver can use multiple codecs for different files/extensions! This provides much better compression/speed since we can target codecs better.

Optimized Fast: Zstandard2 codec compression and extraction up to speed of
your HDD/SSD – real life speed of up to 400-500 MB/s for users with SSD, at compression better than ZIP.
Compared to WinRar – better compression at faster speed and faster decompression in most scenarios.
Optimized Strong – PLZMA4 codec provides stronger compression than strong modes in WinRAR, WinZIP and 7-zip.
Parallel codec means your extraction is faster than ever (multicore
extraction).
PDF, DOCX and PNG compression – compress your PDF and DOCX (Office) files between 30%
and 70% better than WinRAR, WinZip and 7zip. (a very unique feature!)
Special Deduplication filter: Fma-rep filter deduplicates data before
compression, making resulting archives smaller and compression faster.
Compressing Software ISO's with deduplicate filter can lower the size by
extra 500MB compared to WR, WZ, 7-zip (Office 2016 ISO 2.25GB example), with
super-fast compression!
Special codec for compressing txt/html/code.
Special exe/dll filters: collection of special filters that improves
compression up to 10-15% for exe/dll files. Super fast!
Actively developed by PowerArchiver Team, with frequent updates and new future codecs,
optimizations and more.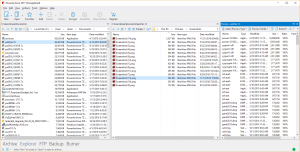 Other PowerArchiver 2017 features
Full 64bit support for maximum speed and memory usage of the new .PA (Advanced Codec Pack).
New two-panel Explorer replacement mode for better file handling!
Simplified interface (classic default, removed modern), increased startup speed by up to 30%-200% over PA 2016 when using Modern toolbar.
Improved ZIP engine, faster by 10%-15%.
Improved 7zip support with multicore support and 64bit support for better memory usage.
New Office add-ins with support for Outlook, Word and Excel. (final)
Portable version! (at final release)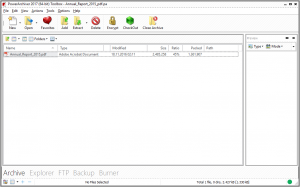 PowerArchiver 2017 with Advanced Codec Pack (.PA) will be first available for our most dedicated users, ones with an active PowerArchiver Select plan and the Advanced Codec Pack will be available as a free add-on. We hope to release the first beta version in the next 7-10 days and final by January 2017. Thank you for your support since 1998!