Dear PowerArchiver Users,
We are pleased to announce the PowerArchiver 2019 Release Candidate 1 release!
PowerArchiver 2019 Preview releases have been available to our users since late December, and we are now up to 19.00.47 release. Today's release is now officially Release Candidate 1, with a host of multiple improvements over PowerArchiver 2018.
In 2017 we have introduced the best compression format on the market today – Advanced Codec Pack (.pa), and in 2018, we went back to the basics and thoroughly optimized PowerArchiver to provide the fastest experience ever.
For 2019, we are focusing on adding advanced features, making PowerArchiver 2019 the smartest release ever!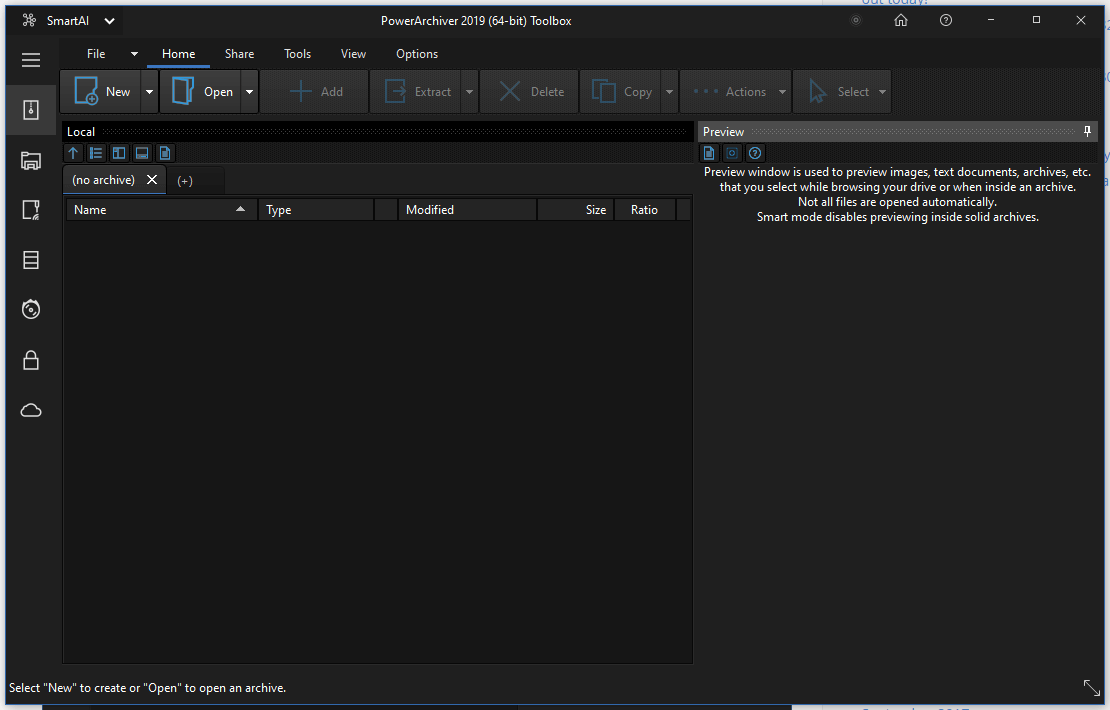 Modern Win10 – Simplified Ribbon UI
Most of our users have always used PowerArchiver due to the advanced interface features and great design and therefore, for the 2019 version, we are bringing our version of the Simplified Ribbon based on Microsoft Office 2019. Simplified Ribbon UI bridges the gap between Classic toolbar that has been around for 25 years, and Ribbon UI that has been in PowerArchiver for last 10 years. It has less buttons so you can concentrate on important features and yet it still features tabs so there is no need for classic menus. As an added benefit – it looks awesome while convenient to use. We have also added an application navigation bar in Windows 10 style to the left side of PowerArchiver, so that all of our features are easily accessible – and in classic PowerArchiver tradition, if you do not like it – you can turn it off! You will also notice a redesigned File menu to the left of the home tab in the W10 interface. It has been redesigned to look great, fit in with the Ribbon interface and offer access to various file management functions that PowerArchiver has to offer. Everything is beautifully skinned too and several skins of different looks are available from the start.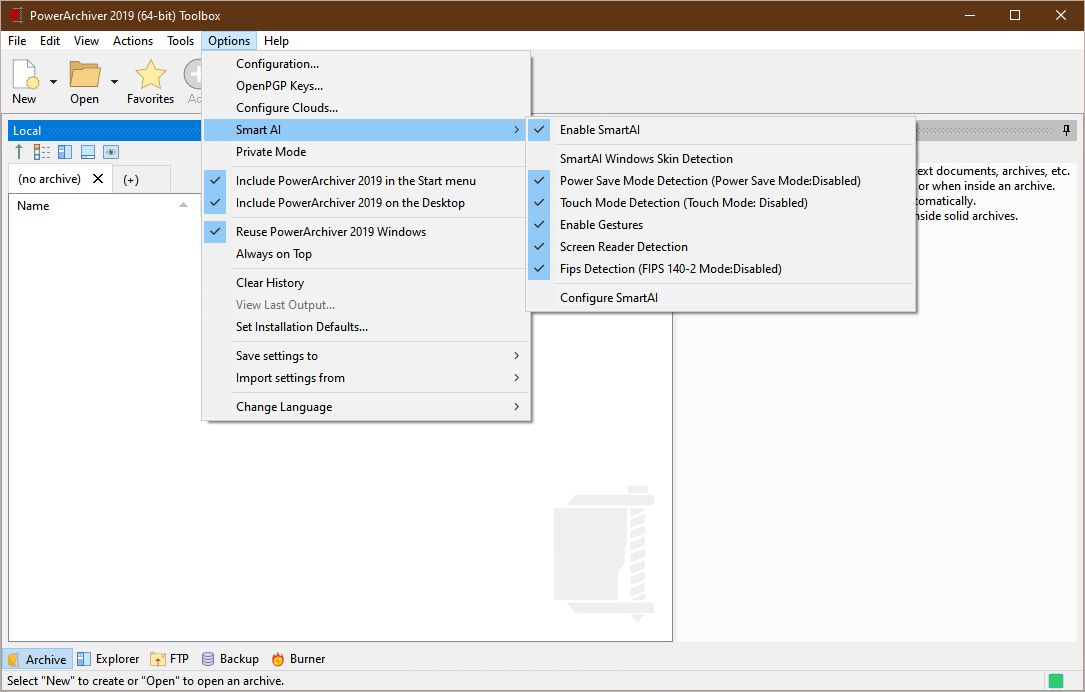 SmartAI – Intelligent decision making
As you might have noticed, everything around us is becoming more intelligent. Why not PowerArchiver? We have added your new PowerArchiver assistant called SmartAI. SmartAI has several important features:
SmartAI FIPS modes – lets administrators enforce FIPS policy across a single computer or whole network. PowerArchiver is the first software that will enable this mode in Windows itself, and provide visual guidance during usage to ensure that users understand if they are not in compliance. During start-up it will show an alert as a warning if FIPS mode is not properly activated. The SmartAI mode has several modes with various warning levels.
SmartAI Windows Skin Detection– it will detect what Windows 10 theme are you using – dark or light, and let you customize which PowerArchiver skin will be used when you use dark or light Windows 10 theme.
SmartAI PowerSave Mode – SmartAI will detect that your laptop is on battery and when you battery level is under certain %, it will turn on Power Saving mode in PowerArchiver, where PowerArchiver will reduce its power usage to minimum.
SmartAI Touch mode – SmartAI will detect that you are using a touch compatible computer, and will switch to the Touch mode where the interface will be easier to use and you may activate Gesture options. This mode makes PowerArchiver easier to use on Windows tablets and touch computers.
SmartAI Compression Optimization – It will automatically switch codecs in ZIP, 7zip and PA formats to increase compression or speed based on your compression strength selection. Previously featured as Optimized mode in PowerArchiver for a long time and still a one-of-a kind feature among archivers.
SmartAI Gestures – Comprehensive gesture mode that will let you use predefined and customizable gestures, making your life easier on touchscreens and especially convertible laptops, where sometimes touch is so much easier to use. In true PowerArchiver spirit, it is completely customizable and you can set it up as you want and assign gestures as you please. Gesture will also work with your mouse, when turned on.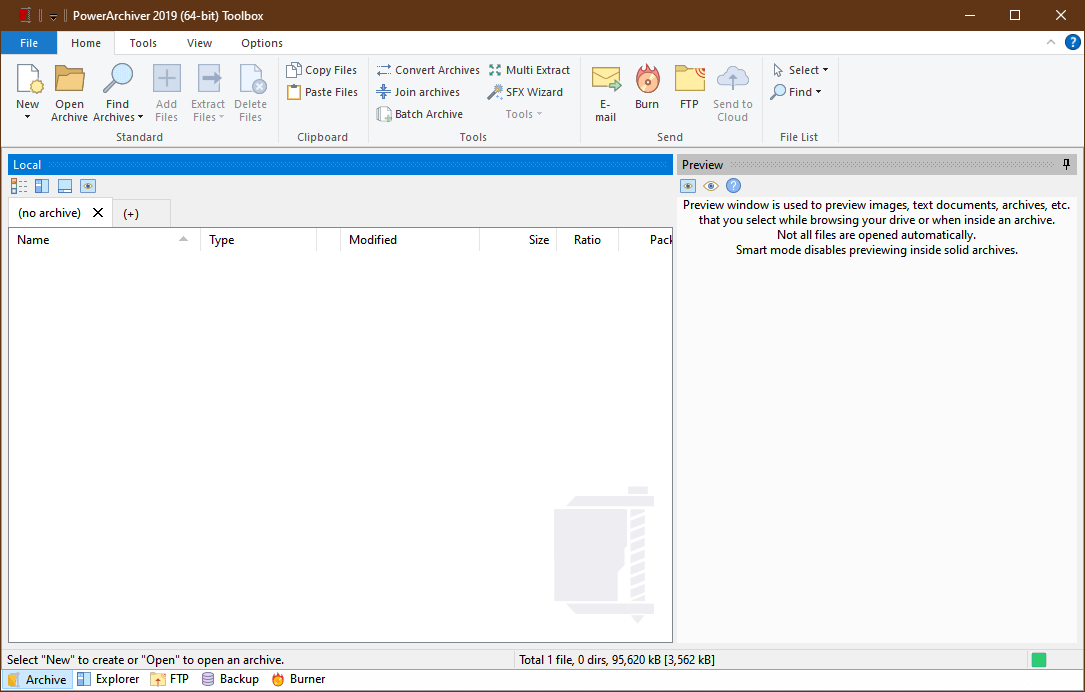 Added faster ZIP modes and mp3 support in zipx
Last year we have added the strongest yet fastest ZIP engine on the market. This year we are adding a new engine that is optimized for speed specifically and is used for Fast and Super Fast compression strength. It also uses multiple cores/threads and works on byte level. It can provide 2x faster compression than before! Added packmp3 support for ZIP engine, to make it fully compatible with WinZip.
PowerArchiver Mini is back
PowerArchiver Mini has returned for 2019! PowerArchiver Mini is our Windows Explorer Preview feature where you can work directly from Windows Explorer Preview window (make sure you turn it on). Not only does it show the file list of a selected archive, you can also browse folders, open individual files and extract them with one of the available options. It is super easy to use and very intuitive. We are also adding Explorer tooltips that will show information about the archive and a summary of the files inside as a tooltip when you hover over an archive in Windows Explorer.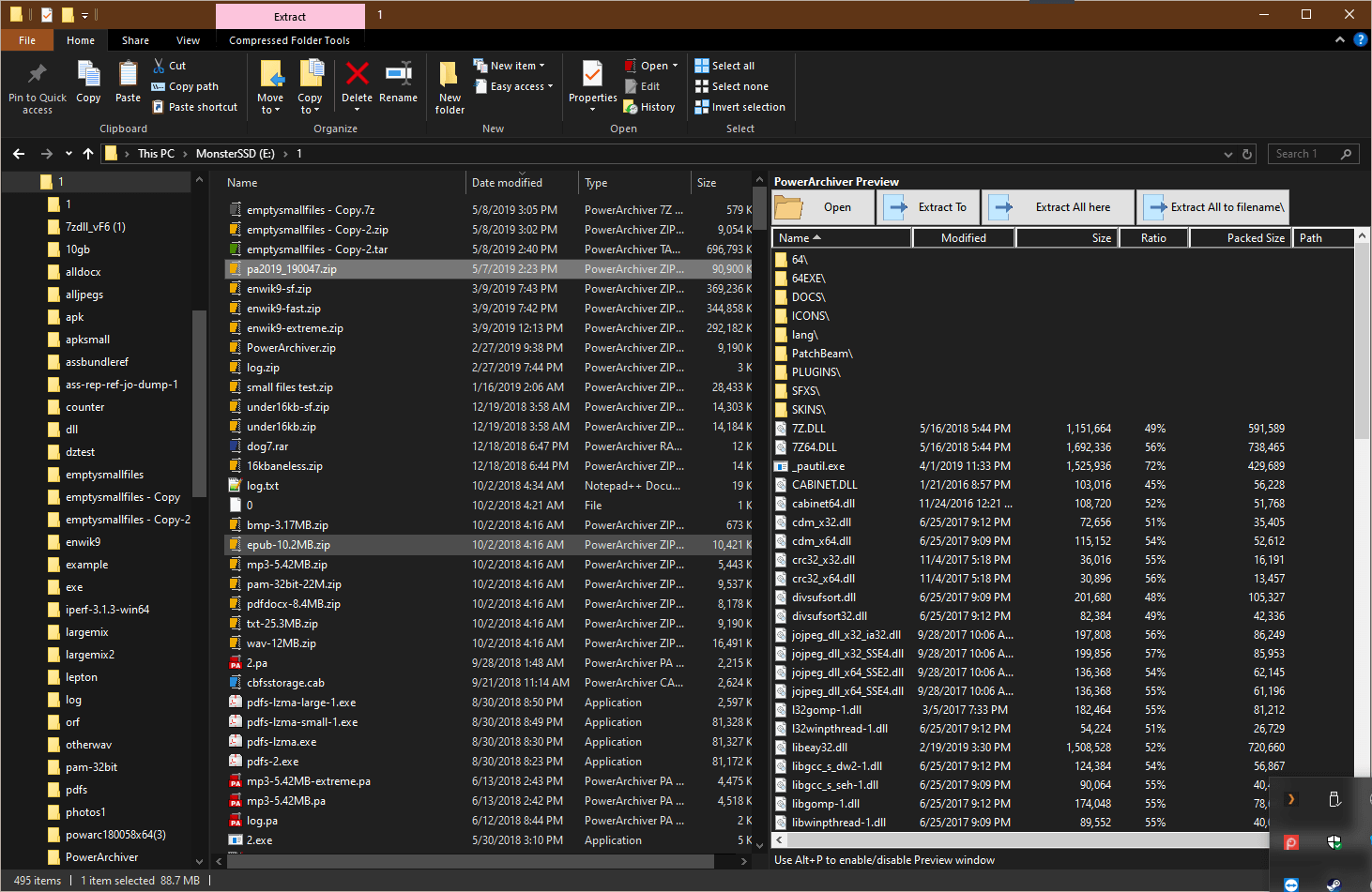 Private Mode option
New Private Mode feature that clears the PowerArchiver history and cleans the temp folder with US DoD 5220.22-M approved methods.
Many other improvements
We have also added full support for screen readers in Classic toolbar. Filelist is all new and fully supports skinning, large dpi, gesturing and everything you can imagine. If you use 4k screens that are 13″ large, you will love the new PowerArchiver 2019! Open and New archive dialogues are now sporting the Windows 10 look, fully skinned too. Everything simply looks great.
PowerArchiver 2019 RC1, with the Advanced Codec Pack (.PA), is now available from our download page as well as Patchbeam for PowerArchiver users. Thank you for your support since 1998!