Dear users,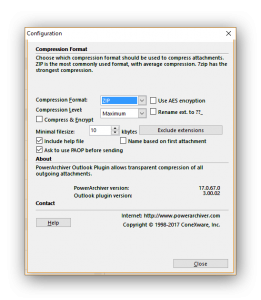 We are pleased to introduce new generation of PAOP, now called PowerArchiver for Office. As you can see from name change, we have significantly expanded PAOP features to work in other Office applications: Microsoft Word and Microsoft Excel. Now you can compress, encrypt and send your documents directly from Microsoft Word and Microsoft Excel, saving some time from having to manually look for documents and send them in separate steps.
When it comes to Microsoft Outlook, we have significantly expanded the functionality by adding PowerArchiver tab with settings button to your Microsoft Outlook toolbar, making it easier to access those options. Additionally, compatibility with latest versions of Microsoft Outlook has been improved and we have added ability to send .PA format if you have PA 2017 installed.
What's New
Microsoft Word and Excel – Added PowerArchiver toolbar with: Save as ZIP, Save as Secure ZIP, Send as ZIP, Send as Secure ZIP options. Formats supported: ZIP, ZIPX, PA, 7z. AES encryption with FIPS 140-2 validation supported for ZIP, ZIPX and PA formats.
Microsoft Outlook – Added PowerArchiver toolbar with Options button for easy access to configuration screen.
Improved compatibility with various versions of Microsoft Office, including Microsoft Office 2016 (specifically for latest versions of Microsoft Outlook 2016). It works with all Excel, Word and Outlook versions included in Office 365 subscription.

PAOP works together with your installed version of PowerArchiver (PowerArchiver 2016, 2017 or any future release) and supports FIPS 140-2 validated encryption. Microsoft Outlook features include automatic compression (.pa, .zip, .zipx, 7z, .cab, .tar.gz and sfx) , AES encryption, help file inclusion, ask to compression window, rename extensions option, name based or first attachment option, minimum size filter and extension filter.

PowerArchiver for Office 3.04 is now available from our download page.