Dear users,
PowerArchiver 2016 16.10.11 has been released today! This version comes after your feedback and reports. Please keep them coming.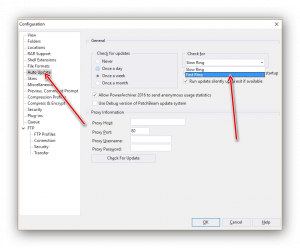 Fast Ring / Slow Ring update system reminder – We have introduced fast/slow ring update system since release of PA 2016. Please go to Config> Auto Update and select Fast Ring to get our "weekly" updates. For more info, visit our forums, each release is listed there and is based on your feedback via forums, web chat, and support. Contact us via any way you wish (email, chat, forums, support, phone) and let us know what want in next release! Please note: This update will be published as Fast Ring update and as latest official version on the download site. Slow ring users will get this update by the end of the month (Slow ring will be updated 1 time per month max, while Fast ring can get up to 2-4 updates per month).
Release Notes – PowerArchiver 2016 – Version 16.10.11

from 16.10.07 to 16.10.11
Improvements/Fixes

Release Notes – PowerArchiver – Version 16.10.11
PA-164 – update 7zip engine to latest release
PA-151 – Fix for icons in Classic>Open and Extract dropdowns
PA-157 – FTP: D&D from FTP folder to subfolder on local drive and download is to root
PA-165 – Translation update for Korean version
PA-167 – Do not associate ISO format in Win10 by default
PA-168 – Show "Save As" dialog when clicking +Add to add files to archive in explorer view before options window
PA-169 – New archive and Save As windows should start in the same folder as being browsed by PowerArchiver explorer mode
PA-170 – Empty Archive created when clicking browse button in add to archive dialog, in explorer mode
PA-171 – Progress bar overlaps with text in Classic Light skin without Aero/Themes in Windows 8
PA-172 – PA crashes with specific PowerArchiver explorer mode settings
PA-173 – Enterprise users – disabling various features through group policy fixes.
PA-174 – Drag and drop window small graphical glitches
You can download PA 2016 16.10.11 via Patchbeam (fast ring only) or via download site. Thank you for your continuous support since 1999, and making PowerArchiver better with your comments, requests and wishes!