SPECIAL OFFER – PowerArchiver 2011 Toolbox English-Only with 40% DISCOUNT!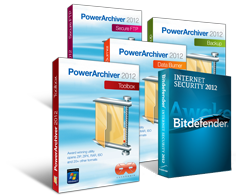 PowerArchiver 2011Toolbox
PowerArchiver Pro features plus:

BitDefender Internet Security 2012 with Antivirus, Antispam, Parental controls. $39.95 value included for 1 year free!
PowerArchiver Data Burner & Virtual ISO drive.
PowerArchiver Secure FTP client.
Click to buy this offer:
* free lifetime updates for PowerArchiver 2011, 1 year of free upgrades for BitDefender Internet Security.
Complete PowerArchiver package with ALL the features plus BitDefender Internet Security! Special offer only TODAY!