BLACK FRIDAY WEEKEND OFFER! – PowerArchiver 2011 Toolbox International with up to 66% DISCOUNT!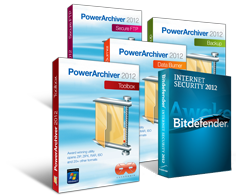 PowerArchiver 2011Toolbox
PowerArchiver Pro features plus:

BitDefender Internet Security 2011. $39.95 value included for 1 year free! (free upgrade to BD IS 2012)
PowerArchiver Data Burner & Virtual ISO drive.
PowerArchiver Secure FTP client.
PowerArchiver Outlook Plugin, Command Line
Create ZIP, ZIPX, TAR/GZ/BZ2, CAB, ISO files, and open 20 other file formats.
Full Win7 support with UAC and VSS!
Click to buy this offer:
* free lifetime updates for PowerArchiver 2011, 1 year of free upgrades for BitDefender Internet Security (including BD IS 2012).
Complete PowerArchiver package with ALL the features plus BitDefender Internet Security! Special offer only this weekend!