Zip To Email
Zip To Email is advanced email attachment utility, most powerful of its kind. It will optimize and secure your important business communication with colleagues by providing easy, transparent and secure way of handling your attachments, all in accordance with strict US Govt. security policies, including FIPS 140-2 certification.
Features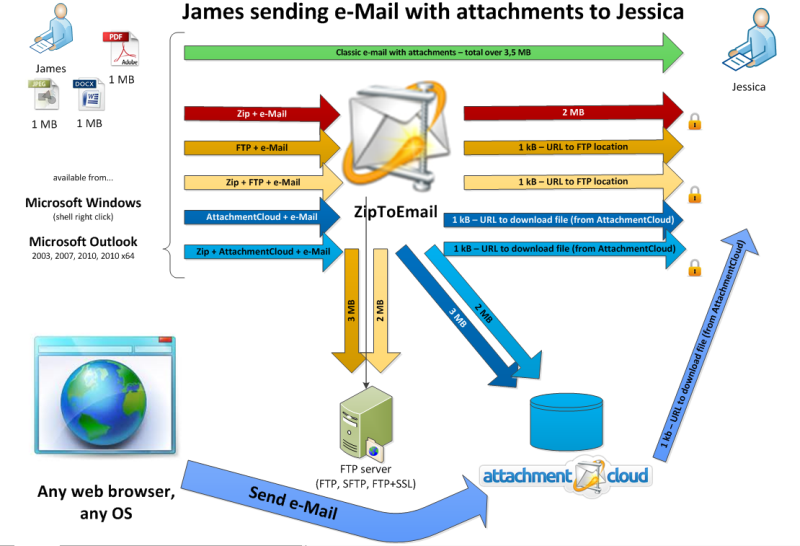 Reduce size of your attachments – You can compress your attachments to several formats such as ZIP, ZIPX, CAB, 7-zip, TAR, etc. Lower the size of your attachments and reduce your network traffic by up to 90%.
Encrypt your attachments – Encrypt your attachments with FIPS 140-2 certified AES encryption, fully compatible with ZIP and ZIPX standards and thus usable by all of your business partners without the need to download additional software.
Extensive filter and policy support – You can decide when and how ZTE will be (automatically) used, thus reducing the load on your users. ZTE can be configured to work transparently without user intervention in the form of Microsoft Outlook Add-In. You can set filters/policies based on attachment size or type. You can also predefine what settings will be used for encryption and compression.
Managed File Transfer – Cloud support
Build Your Own Cloud – Zip To Email has support for uploading to FTP server (FTP, SFTP, FTP with SSL), and return you FTP or HTTP link in the email, thus enabling you to create very affordable managed file transfer solution that is hosted by you, on your own servers, with your own security policies. It fully supports FIPS 140-2 encryption certification so you can rest assured your data is transferred safely.

AttachmentCloud.com – Support for using ConeXware, Inc's own managed file transfer cloud solution which means it is completely managed by us, all you have to do is install client software on your computers. It has some additional features such as web support so you can send and receive files when not near your computer.
How does it Work?
There are several ways to use Zip To Email:
Windows Application – There is an small Zip To Email utility that integrates with Windows Explorer (shell) and will let you email any file on your hard disk or network, by right clicking on it and selecting appropriate option. It works with any email client you have.

Microsoft Outlook Add-In – Fully featured Microsoft Outlook Add-In will compress and/or encrypted your attachments automatically and transparently, based on your rules set by administrator. It supports every single feature that Zip To Email has, including building your own cloud support. It works with every version of Microsoft Outlook from 2000 to 2010, including both 32bit and 64bit versions.
Questions
If you have any questions about Zip To Email, please do not hesitate to contact us.
Download Zip To Email
You can try out an evaluation version of Zip To Email by visiting the download area.
Multiple licenses
$ 19.95

1 License

$ 15.00

2-9 License

$ 12.00

10-24 License

$ 10.00

25-49 License

$ 8.00

50-99 License

$ 6.00

100-199 License

$ 4.50

200-499 License

$ 3.00

500-999 License
Requirements
Operating systems:

Computer:

Every computer which runs one of the above mentioned operating systems at a reasonable speed.

Disk Space Requirements:

10 MB for the program files plus some additional space for backup files (minimal).

Miscellaneous:

Multi-core processors are supported and recommended.