PowerArchiver 2012Professional
PowerArchiver features plus:

PowerArchiver Backup w/ VSS support.
Send files to FTP, SFTP or FTP/SSL server.
Burn files to CD/DVD/BD discs.
PowerArchiver Command Line included.
PowerArchiver Outlook Plug-in included.
All of the PowerArchiver 2012 features, plus:
Create ISO Files
PowerArchiver 2012 enables you to create ISO images directly with files from your hard disk. You can create both ISO9660 ISO files as well as UDF ISO files for maximum compatibility.
Advanced Enterprise class Backup
PowerArchiver Backup is advanced Enterprise class backup with multiple features including:
Volume Shadow Copy (VSS) – With VSS, you can backup any file/database on the computer, without closing program using it.
CD/DVD/BD burner support – Burn your archives directly to the media of your choice.
3 local/network destinations – Copy backup up to 3 local or network destinations for maximum safety
SecureFTP/FTP uploads – Upload backups to FTP/SFTP server, FIPS 140.2 certified.
7-Zip compression – Use advanced 7zip compression to minimize backup size, or chose between other possible formats such as ZIP, ZIPX, TAR, CAB, etc.
Detailed logging support – Detailed logs that can be emailed upon completition, or just stored on the hard drive/network.
Windows Scheduler – PowerArchiver Backup will create and edit Windows Schedules for you, enabling unattended backups, with many advanced options.
Includes PowerArchiver Outlook Plugin
Includes PowerArchiver Outlook Plugin with following features: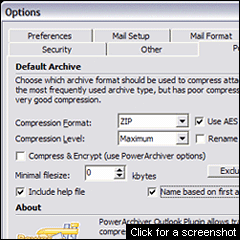 Can be configured to work automatically without user input.
Compress in multiple formats (ZIP, ZIPX, 7-Zip, CAB, TAR.GZ) with different settings.
Powerful 256-bit encryption support with AES256bit ZIP/ZIPX standards. FIPS 140.2 Certified.
Create SFX (Executable) attachments compressed in CAB or ZIP formats.
Rename extension of attachment automatically to bypass mail filters.
Exclusions based on extension with predefined commonly used extensions.
Name attachment based on first file and filter based on minimum file size.
Option to include help file with attachment.
Easy configuration rules for Administrators.
Windows Installer based installation.
Superb compatibility with all versions of Outlook, from Outlook XP to Outlook 2010. No crashing or Microsoft Outlook hanging.
Includes PowerArchiver Command Line (PACL)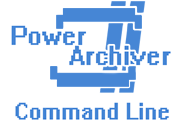 PACL is an advanced standalone command line archiving utility for Windows console environments. It fully supports a variety of the most popular compressed file formats, including: ZIP, ZIPX, 7-ZIP, CAB, JAR, TAR, TAR.GZ, TAR.BZ2, yENC, Base64, CAB SFX and many others. PACL also includes 5 different encryption methods.
PACL was designed to be a versatile, reliable and scriptable application that can be used in many different configurations and scenarios.
| | | | |
| --- | --- | --- | --- |
| BitDefender 2013 Internet Security – full suite Antivirus with 1 year subscription! | | | |
| Virtual Drive – Mount ISO files as cd/dvd drives! | | | |
| Full standalone CD/DVD/Blu-Ray burner | | | |
| Copy CD/DVD discs to ISO images for safe storage | | | |
| Secure FTP Client – full standalone FTP/SFTP client with Ribbon interface | | | |
| Enterprise class Backup utility with Volume Shadow Service support, schedules, logs and ability to Burn, Ftp and Cppy backups up to 3 locations. | | | |
| Create advanced ISO Image files (both ISO9660 and UDF) | | | |
| Full copy of PowerArchiver Command Line (PACL) included | | | |
| Full copy of PowerArchiver Outlook Plugin (PAOP) included | | | |
| Most advanced ZIP/ZIPX engine, only one fully compatible with WinZip and SecureZIP. Supports fully ZIPX standard (lzma, ppmd, wavpack and jpeg) for lowest size archives, unlimited sized ZIP/ZIPX archives, AES 256bit encryption, Unicode languages, Multicore compression and much more. | | | |
| Fully supports creating and opening of: ZIP (multicore), ZIPX (multicore), 7-zip (multicore LZMA and LZMA2), LHA, CAB, TAR/GZ/BZ2, BH and PAE archives. | | | |
| Opens and extracts: RAR (10% faster than WR 4.x), ISO (ISO9660 and UDF), ACE, ARJ, MSI, NSIS, CHM, DMG, RPM, CPIO, VHD, XAR, LZMA, SquashFS, CramFS, WIM (and more!) ( | | | |
| Exclusive Windows 7 and Vista features like automatic elevation via UAC, and Volume Shadow Service support for compressing files/databases exclusivly in use by the system. | | | |
| Superior interface with both Ribbon style interface and Classic toolbar | | | |
| Full file manager support with explorer view | | | |
| FIPS 140.2 and HIPAA certification/compliance with AES encryption in ZIP/ZIPX formats and with Secure FTP file exchange. | | | |
| Has over 10 different tools, Queuing support, Profiles, skins, ribbon/classic interface choice, creates sfx archives (zip, 7zip, pae), automatic updates via 2 second patchbeam sytem and much, much more! | | | |
| Patchbeam 2 second update system | | | |
| Queue system for sequential compression/exuaction scheduling | | | |
| Create Self Extracting archives in zip, 7zip and pae formats | | | |
Multiple licenses multilingual
€31.95

1 License

€24.00

2-9 License

€19.00

10-24 License

€16.00

25-49 License

€12.50

50-99 License

€10.00

100-199 License

€7.00

200-499 License

€4.50

500-999 License
Requirements
Operating systems:

Computer:

Every computer which runs one of the above mentioned operating systems at a reasonable speed.

Disk Space Requirements:

150 MB for the program files plus some additional space for backup files (minimal).

Miscellaneous:

Multicore processor recommended for best speed.
Translations