PowerArchiver for Outlook Plug-in | Overview
PowerArchiver Outlook Plug-in

PAOP is designed to offer the functionality of PowerArchiver from within your Microsoft Outlook® e-mail application. It will seamlessly integrate with Outlook and compress your attachments based on options you select. This plug-in is an add-on to PowerArchiver and will not function if PowerArchiver is not installed.
PowerArchiver Outlook Plug-in 2.0 works with Microsoft Outlook 2000, XP, 2003, 2007, 2010 and 2013 (New: support for both 32bit and 64bit versions of Microsoft Office, both 2010 and 2013).
PAOP Features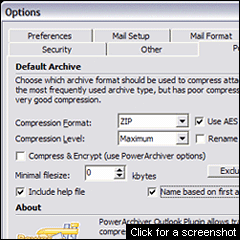 Can be configured to work automatically without user input.
Compress in multiple formats (ZIP, ZIPX, 7-Zip, CAB, TAR.GZ) with different settings.
Powerful 256-bit encryption support with AES256bit ZIP/ZIPX standards. FIPS 140.2 Certified.
Create SFX (Executable) attachments compressed in CAB or ZIP formats.
Rename extension of attachment automatically to bypass mail filters.
Exclusions based on extension with predefined commonly used extensions.
Name attachment based on first file and filter based on minimum file size.
Option to include help file with attachment.
Easy configuration rules for Administrators.
Windows Installer based installation.
Superb compatibility with all versions of Outlook, from Outlook 2000 to Outlook 2013 (both 32bit and 64bit). No crashing or Microsoft Outlook hanging.
Supports both 32bit and 64bit versions of Microsoft Office, via unified single installer.
License Information
PowerArchiver Outlook Plug-in is offered as a free add-on to PowerArchiver Professional. It is distributed under same license and evaluation period as PowerArchiver Professional. PowerArchiver Outlook Plug-in is completely free for registered PowerArchiver Professional users.
Download
To download PowerArchiver Outlook Plug-in version 2.2, visit the download area.
PowerArchiver 9.2 or greater must be installed for proper operation.
Licensing
PowerArchiver Outlook Plugin (PAOP) is distributed only as part of PowerArchiver Professional. It is provided free of charge for PowerArchiver Professional users, under the same licensing and support agreement. Please contact us for more information or simply purchase PowerArchiver Professional.
Screenshots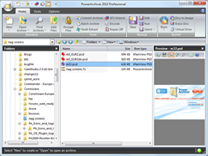 Requirements
Operating systems:

Computer:

Every computer which runs one of the above mentioned operating systems at a reasonable speed.

Disk Space Requirements:

10 MB for the program files plus some additional space for backup files (minimal).
Translations
English, German