PowerArchiver Command Line 7.0 | Overview
PowerArchiver Command Line (PACL)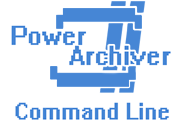 PACL is an advanced command line archiving utility for Windows console environments. It fully supports a variety of the most popular compressed file formats, including: ZIP, 7-ZIP, CAB, JAR, TAR, TAR.GZ, TAR.BZ2, yENC, Base64, CAB SFX and many others. PACL also includes 5 different encryption methods.
PACL was designed to be a versatile, reliable and scriptable application that can be used in many different configurations and scenarios.
Registered PowerArchiver Professional/Toolbox users may utilize PowerArchiver Command Line free of charge. To request a registration code for PACL 7, please visit your ConeXware Account.
Please note that this is a standalone command line tool. For the full PowerArchiver 2012, click here.
Important Features
Latest generation PowerArchiver ZIP/ZIPX Engine:

Multicore deflate zip engine, almost 4x faster than single core systems on quad core computers. (3x faster than WinZip 15)
Improved speed of zip compression and extraction on any occassion.
Full support for advanced ZIPX format – LZMA, JPEG, PPMd, BZIP2 and WAVPACK in ZIP/ZIPX, according to latest ZIP standards. PowerArchiver is the only application that fully supports Winzip 15 and earlier files, while providing faster (up to 3x) and stronger compression compared to WinZip 15.
Full support for more basic ZIP format that is compatible with all archivers out there, as well as the built-in Windows XP/Vista/7 zip reader.
Unlimited size of the archive, unlimited size of files inside archive and unlimited number of files inside archive.
Multicore LZMA engine for ZIP/ZIPX.
Support for Unicode in ZIP, both read and write. Implemented throughout application.
ZIP/ZIPX AES encryption support (both PkZip 5.1 and WZ 9.0 standards supported) – FIPS 140.2 Certified.
Encryption features and FIPS 140.2 certification

Full support for ZIP AES encryption, 128-bit/192-bit/256-bit (supports: PKZip 5.1 (full), Secure Zip 8.0 and WinZip 9.0 AE-1 & AE-2).
PAE support – Encryption of files and archives using 5 different methods: Blowfish (128-bit), DES (64-bit), Triple DES (128-bit), AES 128-bit, and AES 256-bit.
SecureZip compatibility – only archiver fully compatible with SecureZip, including reading 3DES encrypted archives and ZIP/ZIPX archives encrypted with digital certificates.
FIPS 140.2 Certification – PowerArchiver ZIP/ZIPX AES encryption is not only standard based and compatible with all solutions, it is also FIPS 140.2 certified and it can be used in government agencies required to safeguard protective data with FIPS 140.2 certified solution.
VSS support – Do you need to compress databases, Outlook .pst files, or any other files that are exclusively used by some application? No problem for PowerArchiver – we have exclusive support for VSS (volume shadow support), which is usually used only by enterprise backups to access data that is not accessible to other programs.
Read and Write support: ZIP, ZIPX, 7-ZIP, CAB, LHA (LZH), TAR, GZIP, BZIP2, BH, XXE, UUE, yENC, and MIME (Base 64).
Read and Extract support: RAR (10% faster than WR 4.x), ARJ, ARC, ACE, MSI, NSIS, CHM, DMG, RPM, CPIO, VHD, XAR, LZMA, SquashFS, CramFS, ZOO, WIM plus ISO (ISO9660 and UDF) disc image formats.
Licensing PACL
Individuals wishing solely to register PowerArchiver Command Line, or businesses looking to distribute/bundle PACL 7 can purchase one of the following licenses.
Single User licenses grant the use of PowerArchiver Command Line to individuals on a single home or business computer. Single User licenses are priced at $14.95.
Distribution licenses permit companies to use and distribute PACL from and/or within their own programs. All archives and files created with PACL are royalty free, and may be distributed as desired. PACL Distribution licenses are priced at $295.00.
Questions
If you have any questions about PowerArchiver Command Line, please do not hesitate to contact us.
Download PACL
You can try out an evaluation version of PowerArchiver Command Line by visiting the download area. Without a registration key, PACL will display a notice before each command.
Multiple licenses
$14.95

1-9 Licenses

$9.95

10-24 Licenses

$7.95

25-49 Licenses

$5.95

50-99 Licenses

$4.95

100-249 Licenses

$3.95

249-500 Licenses
Requirements
Operating systems:

Computer:

Every computer which runs one of the above mentioned operating systems at a reasonable speed.

Disk Space Requirements:

15 MB for the program files plus some additional space for backup files (minimal).

Miscellaneous:

Multi-core processors are supported and recommended.
Translations
English (command line interface, translations not needed).