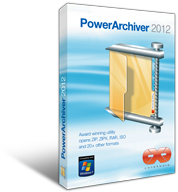 PowerArchiver 2012Standard
Create ZIP, ZIPX, TAR/GZ/BZ2, CAB, ISO files, and open 20 other file formats.
Full Win7 support with UAC and VSS!
Multicore compression, fastest RAR extraction.
Only program fully compatible with all archivers (WinZip, SecureZIP, WinRAR).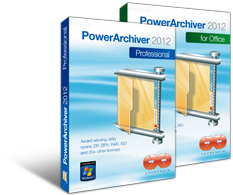 PowerArchiver 2012Professional - 10%
PowerArchiver features plus:

PowerArchiver Backup w/ VSS support.
Send files to FTP, SFTP or FTP/SSL server.
Burn files to CD/DVD/BD discs.
PowerArchiver Command Line included.
PowerArchiver Outlook Plug-in included.


PowerArchiver 2012Toolbox - 20%
PowerArchiver Pro features plus:

BitDefender Internet Security 2013 with Antivirus, Antispam, Parental controls. $59.95 value included for 1 year free!
PowerArchiver Data Burner & Virtual ISO drive.
PowerArchiver Secure FTP client.
Future Upgrades/Updates
Personal/Small Business License
Free lifetime upgrades, applied automatically to all orders of 5 or less licenses. Applicable to home or small business users with license totals of 5 or less. FREE Upgrades to all future versions of PowerArchiver (e.g. PowerArchiver 2020)!
Business License
Free upgrades to PowerArchiver 2012, 2013 and 2014, and all of their minor updates. Applied automatically to all orders that total 6 licenses or more.
Compare Features
| | | |
| --- | --- | --- |
| | | BitDefender 2012 Internet Security – full suite Antivirus with 1 year subscription! |
| | | Virtual Drive – Mount ISO files as cd/dvd drives! |
| | | Full standalone CD/DVD/Blu-Ray burner |
| | | Copy CD/DVD discs to ISO images for safe storage |
| | | Secure FTP Client – full standalone FTP/SFTP client with Ribbon interface |
| | Enterprise class Backup utility with Volume Shadow Service support, schedules, logs and ability to Burn, Ftp and Cppy backups up to 3 locations. | Enterprise class Backup utility with Volume Shadow Service support, schedules, logs and ability to Burn, Ftp and Cppy backups up to 3 locations. |
| | Create advanced ISO Image files (both ISO9660 and UDF) | Create advanced ISO Image files (both ISO9660 and UDF) |
| | Full copy of PowerArchiver Command Line (PACL) included | Full copy of PowerArchiver Command Line (PACL) included |
| | Full copy of PowerArchiver Outlook Plugin (PAOP) included | Full copy of PowerArchiver Outlook Plugin (PAOP) included |
| | Create backup scripts with advanced options | Create backup scripts with advanced options |
| Most advanced ZIP/ZIPX engine, only one fully compatible with WinZip and SecureZIP. Supports fully ZIPX standard (lzma, ppmd, wavpack and jpeg) for lowest size archives, unlimited sized ZIP/ZIPX archives, AES 256bit encryption, Unicode languages, Multicore compression and much more. | Most advanced ZIP/ZIPX engine, only one fully compatible with WinZip and SecureZIP. Supports fully ZIPX standard (lzma, ppmd, wavpack and jpeg) for lowest size archives, unlimited sized ZIP/ZIPX archives, AES 256bit encryption, Unicode languages, Multicore compression and much more. | Most advanced ZIP/ZIPX engine, only one fully compatible with WinZip and SecureZIP. Supports fully ZIPX standard (lzma, ppmd, wavpack and jpeg) for lowest size archives, unlimited sized ZIP/ZIPX archives, AES 256bit encryption, Unicode languages, Multicore compression and much more. |
| Fully supports creating and opening of: ZIP (multicore), ZIPX (multicore), 7-zip (multicore LZMA and LZMA2), LHA, CAB, TAR/GZ/BZ2, BH and PAE archives. | Fully supports creating and opening of: ZIP (multicore), ZIPX (multicore), 7-zip (multicore LZMA and LZMA2), LHA, CAB, TAR/GZ/BZ2, BH and PAE archives. | Fully supports creating and opening of: ZIP (multicore), ZIPX (multicore), 7-zip (multicore LZMA and LZMA2), LHA, CAB, TAR/GZ/BZ2, BH and PAE archives. |
| Opens and extracts: RAR (10% faster than WR 4.x), ISO (ISO9660 and UDF), ACE, ARJ, MSI, NSIS, CHM, DMG, RPM, CPIO, VHD, XAR, LZMA, SquashFS, CramFS, WIM (and more!) ( | Opens and extracts: RAR (10% faster than WR 4.x), ISO (ISO9660 and UDF), ACE, ARJ, MSI, NSIS, CHM, DMG, RPM, CPIO, VHD, XAR, LZMA, SquashFS, CramFS, WIM (and more!) ( | Opens and extracts: RAR (10% faster than WR 4.x), ISO (ISO9660 and UDF), ACE, ARJ, MSI, NSIS, CHM, DMG, RPM, CPIO, VHD, XAR, LZMA, SquashFS, CramFS, WIM (and more!) ( |
| Exclusive Windows 7 and Vista features like automatic elevation via UAC, and Volume Shadow Service support for compressing files/databases exclusivly in use by the system. | Exclusive Windows 7 and Vista features like automatic elevation via UAC, and Volume Shadow Service support for compressing files/databases exclusivly in use by the system. | Exclusive Windows 7 and Vista features like automatic elevation via UAC, and Volume Shadow Service support for compressing files/databases exclusivly in use by the system. |
| FIPS 140.2 and HIPAA certification/compliance with AES encryption in ZIP/ZIPX formats and with Secure FTP file exchange. | FIPS 140.2 and HIPAA certification/compliance with AES encryption in ZIP/ZIPX formats and with Secure FTP file exchange. | FIPS 140.2 and HIPAA certification/compliance with AES encryption in ZIP/ZIPX formats and with Secure FTP file exchange. |
| Has over 10 different tools, Queuing support, Profiles, skins, ribbon/classic interface choice, creates sfx archives (zip, 7zip, pae), automatic updates via 2 second patchbeam sytem and much, much more! | Has over 10 different tools, Queuing support, Profiles, skins, ribbon/classic interface choice, creates sfx archives (zip, 7zip, pae), automatic updates via 2 second patchbeam sytem and much, much more! | Has over 10 different tools, Queuing support, Profiles, skins, ribbon/classic interface choice, creates sfx archives (zip, 7zip, pae), automatic updates via 2 second patchbeam sytem and much, much more! |
Multi User Pricing (english-only)
$22.95

1 License

$16.00

2-9 License

$13.00

10-24 License

$11.00

25-49 License

$8.50

50-99 License

$6.50

100-199 License

$5.00

200-499 License

$3.50

500-999 License
$34.95

1 License

$25.00

2-9 License

$20.00

10-24 License

$17.00

25-49 License

$13.00

50-99 License

$10.00

100-199 License

$7.50

200-499 License

$5.00

500-999 License
$49.95

1 License

$59.95

3 Licenses

$89.95

5 Licenses

$159.95

10 Licenses

N/A

N/A

N/A

N/A

N/A

N/A

N/A

N/A
Vs Competition